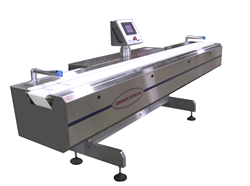 ATHENS, GA (PRWEB) November 03, 2016
Benchmark Automation, powered by Pro Mach, will be showcasing the latest in high-quality conveyors, infeed, loading, stacking, and packaging equipment for the food and bakery industries at Pack Expo 2016 from November 6-9 at McCormick Place in Chicago, Illinois. (Benchmark Automation Pack Expo Booth #S-3830)
Gain productivity with the InFlight FT Loader
Benchmark's innovative InFlight FT Loader delivers precise, continuous motion loading of product in a gentle, non-contact fashion. A floating belt-to-belt transition is used to time randomly spaced product directly into the flights of a horizontal wrapper or cartoner at speeds up to 500 ppm. In addition, the software and diagnostics loaded on an operator-friendly touchscreen minimize changeovers and downtime. The company's InFlight FT will be integrated with a Formost Fuji Alpha VII Horizontal Wrapper.
Optimize load time with the Slugger SL
Reduce labor costs and minimize repetitive motion while obtaining higher wrapper speeds with Benchmark's Slugger SL. This semi-automatic slug loader is primarily used for crackers and other baked goods, delivering precise slug measuring and loading from a single lane of on-edge product. Made of durable stainless steel construction, the Slugger SL mounts in-line with an on-edge horizontal wrapper and loads slugs at speeds up to 150 slugs per minute. This loader is ideal for high-speed slug loading without the cost of an elaborate, dedicated distribution system. Minimal moving parts and easy access to key components create easy maintenance for the Slugger SL.
PowerPouch Intermittent Motion Packager offers flexible packaging efficiency
Benchmark's Southern Packaging Machinery brand will demonstrate the PowerPouch Intermittent Motion Packager – a versatile horizontal form/fill/seal pouch packaging machine designed to enhance efficiency and productivity in any packaging environment. For higher production needs, the company offers the PowerPouch Plus. This system eliminates the need for vacuum openers and replaces them with a more positive filling system, capable of running at higher speeds.
For more information about Benchmark Automation's complete line of automation equipment call (706) 208-0814 or visit http://www.benchmarkautomation.net. Be sure to stop by Benchmark Automation at booth #S-3830 during Pack Expo 2016.
About Benchmark Automation
Benchmark designs and manufactures a complete line of automation equipment tailored to the unique needs of food and bakery manufacturers, including row distribution, vibratory distribution, product stacking, orienting, automatic wrapper in-feeds, slug loading, automatic cartoner in-feeds, robotic loading, and intermittent motion horizontal form fill & seal systems. Founded in 2001, we've built our reputation by delivering superior solutions and responsive customer support focused on high-performance, ease of use, and low maintenance. Visit our website at http://www.benchmarkautomation.net to learn more.
About Pro Mach
Pro Mach is a leading provider of integrated packaging and processing products and solutions for food, beverage, consumer goods, pharmaceutical, and other diverse companies. Through multiple brands, Pro Mach provides product packaging and processing equipment, PMMI certified trainers, installation, parts, and service in Bottling & Capping, Primary Packaging, Pharmaceutical Packaging, Flexible Packaging, Material Handling, Labeling & Coding, and End of Line, as well as Integrated Solutions for complete packaging lines.
Pro Mach has a diverse customer base, from Fortune 500 companies to smaller, privately held businesses worldwide, which depend on reliable, flexible, technologically advanced equipment and integrated solutions. Pro Mach is headquartered near Cincinnati, Ohio, with manufacturing facilities and offices throughout the United States, Canada, Mexico, Europe, United Arab Emirates, and China. For more information about Pro Mach, please visit http://www.ProMachInc.com.