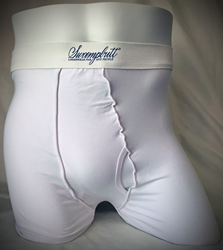 All the comfort and fit of traditional underwear with moisture wicking thrown in.
Houston, TX (November 3, 2016) (PRWEB) November 03, 2016
SwampButt Underwear LLC is introducing another new style of underwear to its line of 'underwear for hot people.' These are made with 93% cotton and 7% Lycra and come in a brief/boxer style. These are remarkable because they offer a combination of traditional fit and comfort with moisture wicking and evaporation. These are available now at: https://swampbutt.com/product/swampbutt-traditional-brief-style-underwear/.
Who Are These For?
SwampButt Underwear™ was designed especially for men who sweat a great deal, particularly below the waist. Since the company's launch in October 2016 it has been well received because of the quality of the garments and because the company and its owners refuse to take themselves too seriously. While swamp butt is a bothersome condition, it is very hard to say the name of the company without smiling.
What Are The Benefits?
SwampButt Underwear's traditional briefs look and fit like customary all-cotton briefs, but are lighter weight for incredible comfort. These miraculous drawers (93% cotton/7% Lycra) draw moisture away from the skin and allow for greater air-flow around the fabric. Benefits of these traditional style underpants from SwampButt Underwear include:

Lightweight fabric with great form fit
Wicks away moisture for improved wear-ability
Extends to upper-thigh
Tag free comfort
Machine wash cold
Color: White.
To Learn More
To learn more about SwampButt Underwear and how to obliterate the blight of butt sweat, follow @swampbutt or join us on Facebook at SwampButt Underwear. Also check out swampbutt.com for all SwampButt Underwear needs, including the Stank Blog.
###