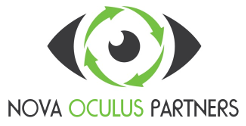 Indian Wells, CA (PRWEB) November 03, 2016
Nova Oculus Partners, the company with plans to bring to market its pioneering medical device for the treatment of Age-Related Macular Degeneration, is now going "international."
With the creation of Nova Oculus Partners International, the company is developing strategies to license its device and patented micro-current therapy in Japan, Australia, Britain and the European Union, Argentina, Colombia and Cuba. Nova Oculus Partners will receive 15 percent of the gross revenue from any licensing agreement signed through Nova Oculus Partners International into those countries.
The Nova Oculus device is already engaged in clinical patient trials in Canada, and regulatory approval for full market commercialization in that country is expected by mid-2017. Some preliminary testing has also been done in Mexico.
Currently, the development of the Nova Oculus device is focused on securing the necessary international certifications that are required before various government-sanctioned regulatory approvals can be granted. Mass production of the device by the company's manufacturing partner is slated to begin in the spring of 2017. Company officials expect that once certification for the device from the International Organization of Standards is granted, regulatory approval in Canada is achieved, and CE Mark approval for the European market is given, gaining access to other international markets will follow.
It is estimated that more than 26 million people in Britain, the EU, Japan and Australia are afflicted with AMD. As many as three-quarters of a million of those could be treated by the Nova Oculus device in the first year alone. After five years, that number could be as high as 3.75 million patients. According to the company's calculations, a potential market of that size could conservatively represent $245 million in revenue from treatments and equipment leases in the first year. After five years, that figure could be as high as $500 million.
These figures do not include the numbers from Canada, the U.S., or elsewhere.
About Nova Oculus:
Nova Oculus Partners, LLC was formed to develop, manufacture, and lease to medical professionals an electrotherapeutic medical device to treat visual disease, providing a pulsed micro-current output delivered to the retina by way of a closed eyelid. This treatment method can help mitigate the effects of age-related macular degeneration and diabetic retinopathy.
The Nova Oculus company's pulsed micro-current therapy represents a new, non-invasive treatment for all forms of macular degeneration. The device output signal is structured to provide a range and pattern of frequencies to stimulate the desired physiologic response at the retinal level. This low current has been shown by studies to stimulate the production of the active transport enzyme, adenosine triphosphate ("ATP"), which facilitates the movement of nutrition from the blood to the cell.
According to recent studies, this treatment improves permeability of the blood vessel membranes and cells, allows better oxygen and nutrition delivery to the cells, metabolism, and removal of by-products from the cells. Through these mechanisms, pulsed micro-current therapy improves retinal pigment epithelium ("RPE") efficiency and in so doing may restore and/or improve retinal function.