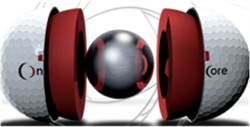 Buffalo, New York (PRWEB) November 03, 2016
OnCore Golf – creator of the popular perimeter-weighted and first USGA-conforming, hollow-metal core golf ball – has unveiled "Project YTB" (Your Tour Ball) that is seeking golfers' input into what they deem important in high-performing balls.
The crowdsourcing initiative aligns with OnCore's increasing legion of players devoted to exclusively using its groundbreaking hollow-core Caliber ball and companion Avant model that features proprietary SoftCell technology.
The result of Project YTB will be golfers' contributions to development of the first Tour-quality ball designed collaboratively by OnCore's legendary engineers, aerodynamics partners and the golf public. The new product is scheduled for introduction around next January's PGA Merchandise Show in Orlando, FL.
"This initiative underscores our commitment to customer engagement and satisfaction," says Steve Coulton, Vice President of OnCore Golf. "We routinely receive great feedback from our expanding base of loyal golfers and want the next OnCore ball to be as good as it can based on their input. Surveying golfers' insights adds to our scientific research and also means we listen to what goes into hitting great shots from tee to green. Robotic test data is sound, but robots don't buy golf balls."
"Project YTB supports OnCore's belief in a dual sense of ownership that is part of our brand's unique and often edgy ways of interacting with golfers. The #BeMoreWithOnCore and #OnCoreOnFire campaigns are generating a high volume of dedicated fans and customers who have switched to OnCore and tell us they are never going back. We expect the crowdsourced Tour ball will add fuel to that fire."
To participate in Project YTB, visit http://www.oncoregolf.com/crowdsourcing-tour-ball/.
About OnCore Golf
Based in Buffalo, NY, OnCore Golf is a leader in golf ball innovation – from core to cover - and their unique approach to golf ball construction caused the United States Golf Association to modify the Rules of Golf related to balls for only the second time in the past 92 years. The company currently offers both the Caliber, a patented .9-inch hollow, stainless-steel alloy core ball with exceptional accuracy and the Avant, a unique SoftCell polymer blend core that provides tremendous distance and a low 65 compression. OnCore Golf is dedicated to making golf fun for players of all skill levels.
Company Contact:
Steve Coulton
VP, OnCore Golf
917-484-1965
steve(at)oncoregolf(dot)com