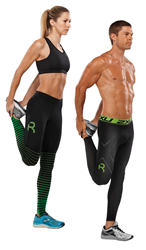 Recovery is just as key to game day performance as training.
Carlsbad, CA (PRWEB) November 03, 2016
2XU ("Two Times You"), a world leader in performance sports and compression apparel, announces a new recovery range to their ever-growing line of athletic gear. The collection, which consists of Power Recovery Compression Tights, Refresh Recovery Compression Tights and G2 Recovery Compression Socks, will pre-launch for retail at the New York City TCS Marathon Expo and will be available to the public in early 2017. The collection offers the high-grade, medical compression that the brand is widely known for, allowing elite and amateur athletes alike to recover quicker, getting them back on the training field faster.
2XU's new recovery collection utilizes PWX 105 denier fabric with graduated compression to restore the body back to peak levels in the fastest possible time. Tired, sore, burning and swollen muscles can be the result of lactic acid build up in the muscles and blood. The faster the body can clear the build up after strenuous activity, allows it to restore back to normal, quicker. With a graduated fit, blood is circulated from the lower limbs, back to the heart, to clear toxin build ups and allow muscles to restore, recharge and recover.
As one of the only brands on the market committed to fabric testing, 2XU has put their proprietary Circular Knit compression through rigorous on-and-off person trials in order to ensure the best possible quality. After testing from Australia's Institute of Sport, 2XU's new recovery compression pieces were shown to have a 33% improvement in recovery and 33% reduction in swelling when compared to other compression brands.
"We are very proud of this new product launch," says Mike Lyons, 2XU USA's Director of Marketing. "Recovery is just as key to game day performance as training. With these new pieces, we know that athletes everywhere will be able to be in top shape for anything."
2XU will launch the recovery collection at the 2016 New York City TCS Marathon Expo in their "Recovery Zone" where consumers will have the exclusive opportunity to "try before they buy." The brand feels so strongly that their compression pieces will aid athletes that they are now offering a one year, 100% performance satisfaction guarantee on compression items, meaning that if a customer is not 100% satisfied with the product's performance, they can return it for a replacement item or full refund.
About 2XU: 2XU ("Two Times You") was launched in January 2005, and is driven by a relentless company mission to advance human performance through the development of world-leading athletic garments. In its first year, 2XU graced the skin of multiple World Champion athletes and has since formed powerful alliances and key partnerships with World Champions across the globe in numerous sports including Triathlon, Cycling, NBA, Swimming, Netball, AFL, Soccer, NRL, NFL and Running. 2XU is also the exclusive Official Compression Supplier to the Australian Institute of Sport.
Founded and based in Melbourne, Australia, 2XU is fast becoming the most technical sports brand in the world. Designed and tested in consultation with industry experts, all garments employ intelligent physiological design, cutting edge performance fabrics and construction. The premium Australian brand is now stocked in multiple countries around the world.
For more information on 2XU, please visit http://www.2xu.com.
###