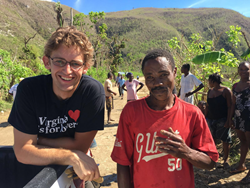 "We've seen houses devastated...desperate need for water purification...people's farm plots destroyed...we have to do more."
Charlottesville, Va (PRWEB) November 23, 2016
Sigora Solar, a Virginia-based energy company, has joined its sister company Sigora Haiti to support relief efforts offering food, water, and shelter for the people of Haiti still suffering from the ravages of Hurricane Matthew. In some parts of the island nation, families are facing their 8th week without sufficient aid. Nearly 340 people were killed.
"By the very definition of the problems facing people in remote parts of Haiti, we have a humanitarian crisis there, and it is our personal and corporate responsibility to help," said Logan Landry, chief executive officer of Sigora Solar. "Our company cares about all of the people we serve. If we can help, it is our responsibility to support our sister company and our fellow man. I'm proud to be part of a group of dedicated employees, and communities, that want to help"
The central Virginia-based consumer and commercial solar and energy efficiency company will dedicate a portion of its local proceeds to provide more than 10,000 people in areas of Haiti hit by the Category 4 hurricane with supplies to repair their homes, purify enough clean water for three months, and plant food and cash crops.
"Our organization began working in Haiti in December 2015 to set up a micro grid in Mole-Saint-Nicolas, a town of 5,000 people that had never had electricity before. And Sigora Haiti was on its way to expanding that effort by building a microgrid to serve another 300,000 people. But the devastation to the people on this island is taking precedence at this time," said Bob Rouse, co-owner of Sigora Solar. "We are going to do what we can to help those in need."
In addition to dedicating local proceeds to the effort, Sigora Solar joined Sigora Haiti in setting up a Go Fund Me campaign to raise nearly $100,000 so that the operations in Haiti can distribute 10,000 pounds of food, 200,000 water purification tablets, and the supplies necessary to repair homes, and plant the moringa tree which is used to produce food and medicine.
To date, the campaign has raised more than $40,000. To learn more about the campaign and to donate, visit: http://www.gofundme.com/supportremoteareas.
Based in Waynesboro, Va., Sigora Solar is the largest solar provider in the Commonwealth with offices in Waynesboro, Richmond, and Washington, D.C. The privately owned company was launched in 2011 and now ranks as one of Inc. 500's fastest growing companies. Sigora Solar is the only solar provider in Virginia offering businesses and homeowners solar systems paired with energy efficiency, with no-money-down financing options. Sigora Solar works with customers throughout the Mid Atlantic to reduce their energy bills, sustain the quality of their environment, and shape the future of energy production and conservation. Sigora Solar's sister company is Sigora Haiti in Port-au-Prince. For more information, visit sigorasolar.com
Launched in 2015, Sigora Haiti started with a dream of electrifying a clinic on the island nation, and has grown into a full scale Green Utility project. The company's 10-year plan is to electrify two million people by 2025 creating 5,800 jobs. Headquartered in Port-au-Prince, Sigora Haiti designed and developed a micro-grid system for the town of Môle-Saint-Nicolas and has a 50-year power supply contract with town to provide an affordable, efficient and sustainable power supply. Sigora purchased 2.5 acres of land for Photovoltaic installations and 195 acres for wind energy, and a Sigora Solar Academy. The company developed a metering technology ready for domestic manufacturing. The Sigora Meter is a proprietary prepaid energy metering technology with built-in demand control, community wide emergency alert and energy monitoring. For more information visit, sigorahaiti.com