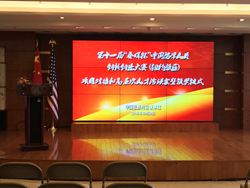 Move boundless, stay dauntless.
(PRWEB) November 03, 2016
On October 28th, 2016, the Consulate General of PRC in New York City hosted a grand ceremony for the participants and guests of the 11th Chunhuibei(Chunhui Cup) Innovation& Entrepreneurship Competition in the consular building located at 12th Ave, New York.
*The Chunhui Cup is a key project set by the Department of Education of PRC to boost comprehensive developments in technology, culture, intellectual property in China. It is recognized as the most prominent competition for overseas students and scholars of China. Numerous colleges, institutions, research centers, and corporations that operate in China attend this annual event as an important approach to adding more assets to their teams.
The contest committee adopts a very sophisticated method of evaluating each project submitted to them. Professors, angel investors, company directors and more experts in various fields are invited to review the business plans provided by the candidates. Being as a finalists is quite competitive, as they are chosen amongst nearly 500 projects worldwide.
Over 400 guests, including, but not limited to, finalists, mentors, directors of companies attended on that Friday. Deputy consul-general Lei Cheng gave an inspirational speech at the beginning of the convention. Mr. Cheng emphasized that Chunhuibei (Chunhui Cup) Innovation& Entrepreneurship Competition was an essential part to effectively implement the concept recommended by the minister, as he stated, "Millions strive for entrepreneurship, billions strive for innovation." He encouraged all overseas students and scholars to maximize the Chunhuibei by utilizing the plentiful resources they are provided. He continued, "Being unlimited for creativity, being boundless for productivity. Make your sparkling ideas become reality, achieve personal ambition by launching career dream, produce the contribution to family, society and the world."
The peak of the event occured in the evening at the awards ceremony. Deputy consul-general, vice-consul, directors from Ministry of Education Overseas Study Service Center, Ministry of Education of the People's Republic of China, and more officials from government awarded the certificates for the laureates, including contest finalists, startup mentors, volunteers, excellent organizers and associates.
First prizes were awarded to the following team: Fu Li, Chang Liu, Kuiwen Yang, Zhiyao Zhang, Cumin Hao, Xiang Li, Ruihua Liu, Quandao Li, Wanyi Xu, Pan Pan, Weighing Chen, Wei Guo, Xiaoguang Wang, Kaiwen Wang, Hanxing Zu, Qiang Xu, Mengyu Wang, Cheng Wang, Victor Penev, Liangliang Weng, Xu Chen.
First prizes were awarded to the following team: Lili Yu, Keke Gai, Jie Cheng, Linkuang He, Chao Zhang, Qiaon Wang, Guan Wang, Wending Mo, Xin Hao, Dun Wang, Feiran Chen, Qiudi Liu, Ding Gu, Lei Liu, Yijun Li, Shuai Yuan, Hao Tang, Congzhe Xu, Jie Hu, Yunpeng Zhang, Lei Zhao, Bao Lei, Jinyang Zhang, Lingxi Chen, Peng Zhang, Jieqiong Wu, Xiangyuan Shan, Yu Zhang, Shandong Wu, Donghong Yang, Guoying Chen, Lin Cheng, Pan Hu, Qiwei Liao.
*Name listed above are only part of the awardees attended the event in consular building on October 28th, 2016.
While biomedicine, mechanical engineering, energy and chemistry are traditional fields as the major component of this year's competition, projects showing share economy, AI, VR were also highly complimented by many experts and investors. An internet based startup named Immitopia successfully raised a $100,000 investment to expand their business. Immitopia mainly provided legal services to their clients by creating a Q&A platform on their official website: http://www.immitopia.com. Before officially launching their business in mid 2015, they collected approximately 3000 surveys from targeted participants. They discovered people were displeased about the ineffective legal services received from their lawyers compared with what they were promised over the phone prior to paying the attorney fee. Soon after, the team created a platform by listing various questions posted by users or visitors and answered by experienced lawyers on their platform. Immitopia provides reliable information to their users at no cost, which saves millions of dollars for site visitors each month because they do not have to pay the large consulting fees or high hourly rates, to ask basic questions. Answers given on the website do not establish a formal contract with a lawyer, so Immitopia takes a further step to provide additional services to allow users to sign an electronic contract that would retain an attorney to handle the case. Integrating legal services with the internet to maximize the productivity of millions of users attracted many potential investors. Many experts believed as the number of Chinese residents in United States increased, online legal services could achieve significant progress in the following years.
After the awards session, a grand banquet was served to allow all guests to have free time to talk with each other. Representatives from more than forty companies in China communicated with over 300 scholars about their careers and startups.
Originally initiated in 2006 by the Department of Education and Department of Science& Technology, Chunhuibei (Chunhui Cup) Innovation& Entrepreneurship Competition has successfully become a flagship worldwide for Chinese students and scholars. Interestingly, most information and news about the event are still posted on an affiliated website which is difficult for the public to browse. Consequently, some volunteers of the event have decided to work together to create a more resourceful site (http://www.chunhuibei.com) for future participants and visitors.