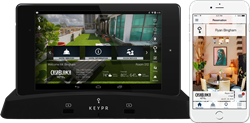 "We are very excited to implement KEYPR in our hotels, as we feel this system is on the cutting edge of guest experience enhancements through technology." -Rafael Oller, President, SOFO Hotels
Los Angeles, CA (PRWEB) November 03, 2016
KEYPR®, a technology company whose cloud-based solution integrates the hospitality experience for guests and management through mobile technology, announced today their partnership with SOFO Hotels in San Juan, Puerto Rico. The SOFO Hotel Group, which owns and operates the CasaBlanca Hotel, Villa Herencia, DaHouse and The Wave have chosen to enhance their guest experience through the KEYPR platform which includes a custom mobile app and in-room tablets. This marks KEYPR's first partnership in Puerto Rico.
Hotel guests will be able to use their smartphones and in-room tablets to access hotel services while on and off property, access hotel information and communicate with hotel staff. Staff and management will be able to utilize the KEYPR system to streamline and track requests and generally improve the efficiency with which they interact with guests. In addition to operational benefits, SOFO Hotels will be able to leverage the powerful platform to promote amenities and partners such as restaurants and bars, as well as localize the experience for their guests through KEYPR's promotion, events and push notification features.
"We are very excited to implement KEYPR in our hotels, as we feel this system is on the cutting edge of guest experience enhancements through technology. More so, we feel that the way the KEYPR implementation, support and pricing is structured, it allows smaller boutique hotels like ours to be on par with technologies being implemented in larger chain hotels," said Rafael Oller, President of SOFO Hotels.
With 200 hotels currently under contract, KEYPR is seeing increased demand for mobile solutions to support goals of increasing revenues and operational efficiency, clearing in-room clutter and generally enhancing the guest experience. With a proven track record, 100% guest engagement and no upfront cost to operators, the KEYPR solution is uniquely positioned to cater to these needs.
"We are thrilled to have Sofo Hotels on board as our first partner in Puerto Rico," said Nizar Allibhoy, CEO of KEYPR. "Using our system, we see enormous potential for them to expand and personalize their guest services while also achieving increased operational efficiency."
KEYPR offers hotels a completely customized, fully integrated system with which to manage guest requests and staff work flow replacing the need for multiple solutions. KEYPR's SaaS model offers the full system to hotel operators with no money upfront and zero CapEx.
ABOUT SOFO HOTELS LLC
SOFO Hotels LLC is a family owned Hotel management company, which currently operates or consults for boutique hotels in San Juan, Puerto Rico including: CasaBlanca Hotel, Villa Herencia Hotel, DaHouse Hotel and The Wave Hotel Condado. The company is currently working on several expansion projects and is committed to contributing to the development of guest experiences and tourism in Puerto Rico. Although SOFO Hotels LLC is a small business with 30 employees, it has grown quickly since its founding in 2012.
ABOUT KEYPR
KEYPR® is a cloud-based guest experience and management solution for hotels and luxury residences. With more than 200 properties currently under contract, KEYPR delivers an easy-to-use, personalized experience while creating new revenue opportunities and operational efficiencies for hotels. Guests can personalize their entertainment experience, access a directory of hotel services on-premises through an in-room tablet or the KEYPR app and use their mobile phone as a key through Keyless Entry. Hotel operators and residence managers enjoy an integrated dashboard (GEMS) that gives them visibility into guest needs throughout their stay, the ability to offer targeted services to high-value guests, and the ease of monitoring operational KPIs across multiple properties. KEYPR's team is comprised of Silicon Valley insiders and former executives from Hilton, Sony and Westmont Hospitality. Its industry partnerships include integrations with Opera, OpenHotel, WebRezPro and other PMS Providers. It has been featured in Hotel News, TNOOZ and Next Big Thing. For more information, visit: http://www.keypr.com.