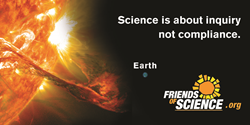 ..environmental non-profits operating in Canada,...They use catastrophic claims for fund-raising, frighten the public, but behind it all, they are proxies for other interests. It's killing our economy."
Calgary, Alberta, Canada (PRWEB) November 03, 2016
Friends of Science Society has issued an open letter, posted on their blog Nov. 2, 2016, to Canadian Prime Minister Justin Trudeau and the provincial First Ministers in advance of the Morocco COP-22 climate change meeting next week. Friends of Science Society is calling upon the elected leaders to fight what the Friends say is a geopolitical trade war against Canadian resources "...cloaked in climate catastrophe rhetoric," says Michelle Stirling, Communications Manager for Friends of Science Society.
"Climate science and energy policies have been skewed by many of the foreign funded environmental non-profits operating in Canada," says Stirling. "They use catastrophic claims for fund-raising, frighten the public, but behind it all, they are proxies for other interests. It's killing our economy."
The Washington Times reported July 20, 2015 that major renewables investors had been funding the Sierra Club to demonize coal. The US Senate Minority Report "The Chain of Environmental Command Billionaires Club" of July 30, 2014 documented how billionaire foundations were going 'green' and driving environment and climate policy – for their own ends, The ClimateWorks group of billionaire foundations wrote "Design to Win" in 2007 wherein they lay out a plan to fund local ENGOs to change energy policies.
"Many ENGOs operating in Canada have been funded by these organizations," says Stirling, referring to numerous reports by researcher Vivian Krause, like that of July 2, 2014 in Alberta Oil.
Stirling points to the 2008 "Tar Sands Strategy" revealed by Counterpunch on Oct. 16, 2013 and statements in the 9th Annual Conference Report of the International Funders of Indigenous Peoples (pg 42-47) published in 2010 indicate that the Cooperative Bank of the UK was funding a northern First Nations band, while various ENGOs were banding together to destroy Alberta's reputation and block oil sands development.
"Aside from that, the World Resources Institute (WRI) claims to have helped set three-quarters of the countries' Intended Nationally Determined Contribution (INDC) for Paris, while on Generation Management Investment web-site, patrons are invited to participate in a global collaboration with WRI, NRDC, Climate Reality, and others," says Stirling.
"This is one of the many apparent conflicts of interests, in our opinion. It's time we stood up for Alberta and Canada."
Friends of Science Society has been actively reviewing climate science since the advent of the Kyoto Accord in 2002 and hold the position that the sun is the main direct and indirect driver of climate change, not carbon dioxide. Membership is open to the public, via the website.
About
Friends of Science has spent a decade reviewing a broad spectrum of literature on climate change and have concluded the sun is the main driver of climate change, not carbon dioxide (CO2). Friends of Science is made up of a growing group of earth, atmospheric and solar scientists, engineers, and citizens.
Friends of Science Society
P.O. Box 23167, Mission P.O.
Calgary, Alberta
Canada T2S 3B1
Toll-free Telephone: 1-888-789-9597
Web: friendsofscience.org
E-mail: contact(at)friendsofscience(dot)org