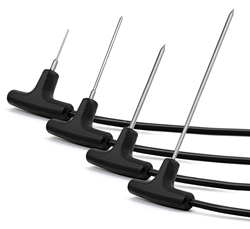 Warner, New Hampshire (PRWEB) November 03, 2016
For nearly a decade, the RFOT has facilitated HACCP plan success and regulatory compliance for hundreds of meat processors around the world. The rugged, splash-proof enclosure and ergonomic design allow the RFOT to travel right alongside meat and poultry as they are transformed from carcasses to finished, market-ready products. From the smokehouse or chiller to the oven or freezer, the RFOT travels anywhere processors need it to go to validate temperatures continuously.
The expanded array of probes now available for the RFOT means there is a perfect temperature data logger for every meat or poultry processing application, regardless of the size of the product. For those creating smaller meat products such as sausages or snack sticks, the 1.75 inch (70 mm) Fast Response probe of the RFOT-FR is a perfect fit. Other options include the 7 inch (177 mm) probe of the RFOT-7, which is designed to easily pierce to the core of carcasses or large primal cuts to guarantee complete cooking internally. For mid-sized products, the classic 4 inch (102 mm) RFOT probe is now available in its original 0.188 inch (4.8 mm) diameter or the slender new 0.125 inch (3.2 mm) transitional diameter.
The RFOT's rugged probe never needs to be removed from the meat, providing processors with the best, most complete picture of the internal temperatures of meat and poultry products as they are processed. As the logger measures temperatures and transmits data wirelessly, the MadgeTech 4 Data Logger Software generates both data tables and full-color graphs in real time to verify cooking processes, guide decision making and prevent product loss. Users can create custom cooling flags within the software to track and demonstrate adherence to proper food safety procedures from regulatory bodies including the FDA.
With a MadgeTech Cloud Services account, the power of MadgeTech 4 Data Logger Software is available at anytime from anywhere in the world. This allows managers to monitor production for a facility or network of facilities around the world from any computer or internet-abled mobile device. Reports from MadgeTech Cloud Services can be downloaded at any time for further analysis in Excel.
For more information on the RFOT, please call MadgeTech at (603) 456-2011 or email info(at)madgetech(dot)com.