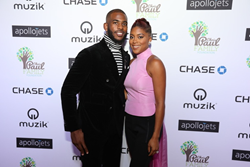 The Year Up program gives young people the skills and confidence to achieve their goals. This program will be an asset to both the employers who participate and the community - Chris Paul
Los Angeles, CA (PRWEB) November 07, 2016
Recognizing Year Up's innovative, proven approach to providing low-income young adults with in-demand skills and a pathway to professional careers and higher education, the Chris Paul Family Foundation donated $25,000 to support the launch of Year Up's newest site in Los Angeles.
The Chris Paul Family Foundation held their annual fundraiser on October 23, 2016 at Mastro's Steakhouse in Beverly Hills. The fundraising dinner included a live auction, with proceeds benefiting Year Up and the Children's Health Fund.
"The Year Up program gives young people the skills and confidence to achieve their goals," stated Chris Paul. "This program will be an asset to both the employers who participate and the community."
"We're thrilled to have the support of the Chris Paul Family Foundation as we launch our first site in Southern California," said Caitlin MacDonald, Year Up Los Angeles Executive Director. "As a founding donor, the Chris Paul Family Foundation is ensuring that Year Up will be able to serve local young adults in need of an opportunity, as well as employers in need of skilled, motivated talent."
Year Up Los Angeles is a nonprofit workforce development program that provides low-income young adults with six months of technical and professional training in areas such as business operations, IT and cyber security, followed by a six-month internship at top companies like Microsoft, Symantec, Wells Fargo, JPMorgan, Bank of America and Salesforce.
Year Up Los Angeles' educational partner, West Los Angeles College, is providing students with college credits, classroom space and instructors. Year Up Los Angeles students began classes at West in August 2016.
As students work towards completing a degree, Year Up Los Angeles provides them with professional development and work experience, preparing graduates to launch meaningful careers in growing industries. Nationwide, 85 percent of Year Up graduates are employed or attending college full-time within four months of completing the program, with average starting salaries of $36,000/year. Learn more about Year Up Los Angeles by following us on Facebook.
About Year Up Inc.
Year Up's mission is to close the Opportunity Divide by providing urban young adults with the skills, experience, and support that will empower them to reach their potential through professional careers and higher education. Year Up achieves this mission through a high support, high expectation model that combines marketable job skills, stipends, internships and college credits. Its holistic approach focuses on students' professional and personal development to place these young adults on a viable path to economic self-sufficiency. Year Up currently serves more than 3,000 students a year at sites in Arizona, Atlanta, Baltimore, Boston, Chicago, Dallas, Jacksonville, Los Angeles, the National Capital Region, New York City, Philadelphia, Providence, Puget Sound, San Francisco Bay Area, and South Florida. To learn more, visit http://www.yearup.org or http://www.youtube.com/yearupinc.
About The Chris Paul Family Foundation
The Chris Paul Family Foundation strives to positively impact individuals and families by leveling the playing field in education, sports and life. The foundation provides resources that enrich and strengthen healthy development of strong communities. Recognized as a leader in the area of philanthropy, The Chris Paul Family Foundation will continue to use its platform to impact communities nationally and globally. For more information about the Chris Paul Family Foundation, visit https://chrispaul3.com/foundation/.