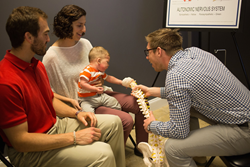 "I approach every situation with unbridled passion. I can't imagine doing it any other way. Because I love to help people live the life they're supposed to live, I never look at any disorder as hopeless, especially ASD. There's always a better way"
Sea Girt, NJ (PRWEB) November 04, 2016
Autism Spectrum Disorder (ASD), a diagnosis that was once thought to be hopeless, is now garnering hope thanks in part to the vigilant, unconventional care by neurologically-based chiropractor, Dr. Anthony Pellegrino whose research was published in a recent case study in the Journal of Pediatric, Maternal & Family Health.
"I approach every situation with unbridled passion. I can't imagine doing it any other way. Because I love to help people live the life they're supposed to live, I never look at any disorder as hopeless, especially ASD. There's always a better way," said Jersey Shore native Dr. Pellegrino, owner of Absolute Chiropractic.
From eliminating aches and pains to improving the overall function of the nervous system and enabling patients to live healthier, happier lives, he has been implementing his research-supported gentle, specific adjustments absent of the traditional twisting, cracking or popping with sometimes life-changing results.
The case study reflects Dr. Pellegrino's ongoing mission to improve the bleak prognosis associated with the disorder that affects more than 400,000 children in the United States. Through extensive research, the case study outlines the subluxation-based chiropractic care he performed on a four-year-old boy with ASD for 15 visits over a period of eight weeks.
The results show a 40.6% improvement in total impairment rating by the Autism Treatment Evaluation Checklists, which were designed by the Autism Research Institute to evaluate treatment options. Specifically, a 34.8% improvement in speech/language/communication was highlighted by enabling a once-mute patient to speak; sociability improved by 50%; sensory/cognitive awareness improved by 50% and health/physical/behavior improved by 31.4%. This data further strengthens the relationship between the reduction of vertebral subluxation and the functional improvements in ASD patients. It also points to the imperative need for larger studies in the future.
Although the data serves as concrete evidence of the efficacy of subluxation-based care on ASD, the words from the patient's parents are even more powerful: "Going ahead with your treatment was one of the best decisions we ever made. The way our son has shown transformation into a more proactive kid was simply unbelievable, and we owe this to you."
Separately, Dr. Pellegrino's research on chiropractic and attention deficit hyperactivity disorder was presented in October 2016 at the International Symposium on Clinical Neuroscience: Clinical Neuroscience for Optimization of Human Function. He received a bachelor's in Kinesiology from the University of Maryland and a Doctor of Chiropractic from Life University in Marietta, GA. He is an active member of the International Chiropractic Pediatric Association and has advanced certification in pediatric and prenatal care.
About Absolute Chiropractic
Absolute Chiropractic's mission to inspire people and their families to live life at their absolute potential is reflected in the neurologically-based chiropractic care that Dr. Pellegrino and his wife, Colleen Pellegrino, RN, provide. The office is located at 2100 Highway 35 in Sea Girt, NJ. Hours are Mondays and Thursdays, 10 a.m.-1 p.m. & 3-7 p.m.; Tuesday, 3-7 p.m.; Wednesday, 10 a.m-1 p.m. & 3-5 p.m.; closed Friday through Sunday. For more information, visit http://www.getabsolutehealth.com/, call (732) 945-5033 or email team(at)getabsolutehealth(dot)com.
About the Journal of Pediatric, Maternal & Family Health
The Journal of Pediatric, Maternal & Family Health is part of the McCoy Press family and its mission is to disseminate to its reading audience peer-reviewed research and other information dealing with the concepts of health, wellness, and vertebral subluxation as they relate to children, mothering and families. It is devoted primarily to serving the chiropractic profession, other health care providers, the scientific and scholarly communities, and the public at large.