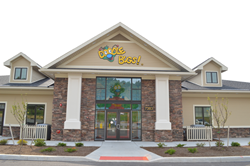 The achievement marks over a year of hard work from our team of parents, teachers and administrators and we are very proud to be recognized
(PRWEB) November 04, 2016
Victor, NY — Doodle Bugs! Children's Learning Academy is proud to announce accreditation of their Victor location through the Middle States Association Commissions on Elementary and Secondary Schools (MSA-CESS).
Middle States accreditation is a voluntary process that Pre-Kindergarten-grade 12 public, private, parochial, and charter schools can undergo and is the gold standard for measuring and advancing school improvement. MSA Accreditation helps a school critically review its current performance, set a course for positive change and build a commitment to continuous improvement. According to Child Care Aware of America, only 10% of all child care centers earn this national accreditation.
Doodle Bugs! Victor is among 152 schools and school systems in 14 states earning national accreditation this month. With a total of more than 2,700 accredited schools and school systems in 34 states and nearly 100 countries, MSA-CESS is proud of its continuing legacy and its ongoing innovations to meet the challenges of improving education in the 21st century.
"The achievement marks over a year of hard work from our team of parents, teachers and administrators and we are very proud to be recognized", said Owner and Center Director, Karen Ego. "Through the accreditation process, we developed a 7-year plan for growth and improvement. The plan represents commitment to continuous advancement in all facets of our business. We are proud of our child care program and the services we offer the Victor community." For more information on Doodle Bugs! Children's Learning Academy visit http://www.doodlebugs.com.
About Doodle Bugs! Children's Learning Academy:
Doodle Bugs! will celebrate 25 years as a leading education-based child care provider this January. With 13 locations in New York, Pennsylvania, and Florida, the program now serves more than 3000 happy families and employs 500+ faculty members. Doodle Bugs! provides education-based care for children ages 6 weeks to 12 years, including preschool, pre-kindergarten, and school age programs. The Bravo! Curriculum, which is professionally designed and exclusive to Doodle Bugs!, combines developmentally appropriate academic experiences, enrichment classes, and a series of center events. The Ego family opened the center in Victor in September 2012.