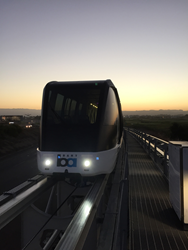 According to the US Federal Transit Administration, approximately 2,400 miles of track were added to transit rail lines between 1997 and 2015. Nearly 800 of those new track miles were for light-rail trains, typically the quietest of rail vehicles.
Oakland, CA (PRWEB) November 15, 2016
EMTRAC Systems was hosted by the San Francisco Bay Area Rapid Transit District (BART) for an onsite demonstration of a new safety system designed to alert both train operators and wayside rail workers when trains are approaching their position.
The patented EMTRAC Rail Worker Notification System was designed to improve safety for transit-agency workers who spend a large portion of their workday maintaining and repairing rail lines. In the past 20 years, the number of transit rail lines has steadily increased throughout North America, increasing the number of workers in vulnerable locations along those lines.
The EMTRAC Systems demo made four complete runs along a non-revenue portion of track with Wayside personnel from BART and EMTRAC positioned at four locations. Wayside personnel carried an EMTRAC Personal Notification Unit (PNU), which was used to alert them of approaching trains. The PNUs were configured with the EMTRAC Systems Manager software, which enables them to trigger an audible beep, LED flash, and/or vibratory alert.
In every worker approach, the resulting safety alerts occurred within BART's agency-defined threshold. Wayside-worker logs showed an average alert time of 19.39 seconds with a greatest variance of 2.10 seconds. The onboard logs showed an average alert time of 19.32 seconds with a greatest variance of 2 seconds.
In addition to other functional components, the demo train was equipped with an EMTRAC Systems Control Head, which is typically cab-mounted to visually and audibly alert the train operator of upcoming wayside workers. For the demo, the EMTRAC system was configured to alert both the wayside workers and the train operator when the train reached a 20-second estimated time of arrival (ETA) to the workers (+/- 3 seconds). For installed systems, operations center personnel may also be alerted through the EMTRAC Central Monitor software.
A portion of the BART demo is available to view online. A similar test of the EMTRAC system was conducted in 2012 by Santa Clara Valley Transportation Authority (which is also available to view online). For more information about EMTRAC systems, please visit http://www.emtracsystems.com or http://www.emtracrail.com.