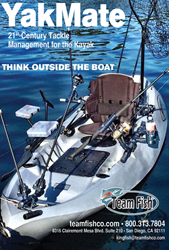 Turns your kayak or float tube into a tactical fishing machine!
San Diego, CA (PRWEB) November 04, 2016
The CastMate™ Systems V2.0 fishing tackle manager for float tubes and kayaks affords a simple yet efficient modular frame design for handling assorted equipment within the confines of the limited space of a Float Tube or Kayak. Its unique design and utility have been awarded a Patent from the United States Patent and Trademark Office.
The CastMate™ System was originally designed as a float tube rod holder/rod rack, but has evolved into a platform for managing all fishing equipment and accessories for float tubes, pontoon tubes, canoes and kayaks.
The CastMate™ V.2.0 allows attachment of a wide selection of fishing accessories to turn all makes of kayaks and float tubes into flexible fishing machines, allowing the addition of a fish finder holder, rod holders, video camera and more.
The accessories include:

Fishing Rod Holders
Net Holder
Combo Cup Holder
Video Camera Mount [Above and Below water level]
Tackle Table
All these attachments allow for easy access to all your fishing gear and tackle from the comfort of your float tube or kayak. All CastMate products are made with lightweight marine grade aluminum and nylon. Manufactured in the United States.
Team Fish, Inc. is a small veteran-owned design and manufacturing firm based in San Diego, California, with owners who are avid anglers and sportsmen. All Team Fish products are made in the USA and assembled here in California.
Visit our website at http://www.teamfishco.com for a full review of all of our products.
Find us on facebook at Team Fish.