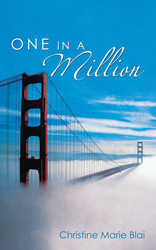 San Francisco (PRWEB) November 07, 2016
A divorced woman who is weary of being in a relationship with another man changes her beat when she meets a charming and sensual musician in Christine Marie Blai's romance novel "One in a Million."
Mariette takes a vacation to San Francisco and has the pleasure of meeting Christian, a touring pianist who is well respected in the music world. Enamored by his good looks and sophistication, Mariette is taken on a journey around the city as their feelings for each other intensify with every waking moment.
"I'm interested in musicians and musicianship," said Blai. "I can play the piano and enjoy music, but I believe musicians experience music in a very different, personal way, almost guttural."
As Mariette dives further into Christian's world of music, she hears rumors that her romantic interest has a history of womanizing while on tour. Afraid of making the same mistakes twice, Mariette must decide whether or not to continue her intense relationship with Christian.
Created as a passion project, Blai's "One in a Million" is a romance novel set in one of the most beautiful cities in the world.
"One in a Million"
By Christine Marie Blai
ISBN: 978-1-53200-227-4 (softcover); 978-1-53200-228-1 (eBook)
Available on Amazon, Barnes & Noble, and iUniverse
About the author
Christine Marie Blai is a retired caregiver with a bachelor's degree in creative writing from the University of California at Davis. She has published short fiction stories, as well as erotica, under the pen name Lucy Blue. Blai was born and raised in San Francisco.
Review Copies & Interview Requests:
LAVIDGE – Phoenix
Bryan Beach
480-998-2600 x 510
bbeach(at)lavidge(dot)com
General Inquiries:
LAVIDGE – Phoenix
Danielle Grobmeier
480-998-2600 x 614
dgrobmeier(at)lavidge(dot)com