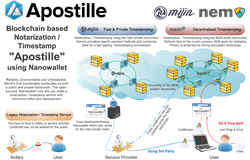 Singapore (PRWEB) November 04, 2016
Tech Bureau and NEM, an open source blockchain technology project today announced that they have launched Apostille, a notary and timestamping solution for both the NEM public blockchain and the Mijin private blockchain run by Tech Bureau. Leveraging on NEM technology, Apostille is able to utilise its naming service, multisignature accounts, messaging, and blockchain asset features to create a dynamic notarization and timestamping solution. Up until now, notarization solutions using other blockchain solutions have been just to notarize, timestamp, and store. Apostille has taken it up one more notch by adding more features such as branding a certificate issuance, making it transferable, allow updating, and making it conjointly owned.
"NEM is such a powerful blockchain solution that empowers creativity to dictate its utility. The development of Apostille as a notarization and timestamping solution demonstrates this." – Lon Wong, NEM core team member.
The key innovation of the Apostille blockchain notarization service is not just to make a one-off timestamp of a document's fingerprint, but instead to also take that document's file name and combine it with the user's account information to make a special and unique private key just for that file. With that private key, a hierarchical deterministic (HD) account is derived. That file now has a dedicated account on the blockchain that can have messages and assets sent to and from it, be conjointly owned or transferred via multisig, and be branded with namespaces.
"Apostille is the first ever second-generation blockchain notarization application. We are excited about seeing existing businesses adopting this technology for new and novel use cases on both NEM and Mijin. Furthermore, while other startups or blockchains are raising millions of dollars to build this service, we are launching it to users and businesses for free." - Jeff McDonald, Apostille project manager, and NEM core team member.
Blockchain notarization and timestamping is a novel idea. Given time, it should prove to be a very convenient, inexpensive and powerful solution for corporations and governments to make use of as a proof of existence and transaction. Given time, there can be so many uses for it. Apostille is already available for the following use cases.

Property titles such a land, car, art, photography, jewelry
Proof of authorship and existence for things like contracts, e-mail, tweet, voice recording, log, time stamp record, such as a time card.
Data security and backup.
The Apostille was released at the same time as the NanoWallet, a purely javascript wallet, available now for both NEM and Mijin utilizing their easy to build on APIs. Again, it shows how Apostille was easily made to become a component of NEM by merely incorporating it as part of the client software. Apostille could very well be a part of any application solution. Apostille has taken away the challenge of implementing complicated solutions by instead using simple hardware and the power of the NEM blockchain solution.
About NEM
NEM is an open source blockchain project that started in February, 2014. A project that was developed from the ground up using Java, it is undergoing a second iteration in order to enhance its performance. A peer-to-peer blockchain platform solution, NEM, is designed to work with mainstream industry requirements. A highly versatile solution, the NEM blockchain solution is well suited for the financial industry, and for general use.
About Tech Bureau
Tech Bureau Corp. provides a crypto exchange "Zaif" and a private blockchain product "mijin" utilizing NEM technology. "Mijin" has been tested intensively as a high-throughput ledger engine in various applications and proven its applicability to banking systems.