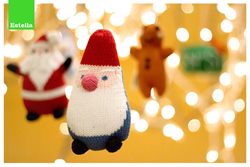 "Our baby gifts have for many years been mistaken as ornaments. And customers have asked for simple ways to suspend them. We now have made these baby rattles easy to hang with a simple string," said Estella Founder Chike Chukwulozie.
New York, NY (PRWEB) November 09, 2016
Estella, the leader in baby gifts is proud to announce that its popular infant toys can now be hung as ornaments. The taxi baby rattle, animal rattles and its eclectic collection of newborn baby toys now come with a cotton string that allow them to be securely hung on trees, baby's door, over their crib and anywhere decorative.
Estella's baby rattles have been enjoyed by countless babies and adults, but never as the little pieces of art that they are. Estella's customers have for many years wanted an easy way to hang these baby gifts and Estella has now provided one. Each toy's hangtag is attached with a beautiful green cotton string from which the toys can be hung.
For any home with a baby, a love for art or a sense of humor, these organic baby toys can add a lot of character to the holiday décor. With so many rattle toys to choose from, there is something for everyone in Estella's collection. The line includes:

Locomotive rattles for babies - taxi, fire truck, race car, airplane & ambulance;
Animal rattles - elephant, panda, polar bear, chicken, pig, monkey, giraffe, owl, bunnies, whale, octopus, duck, rat, tiger, penguin, seal, turtle, seahorse, starfish & porpoise
Sports toys - basketball, football, baseball & tennis ball
Food rattles - pretzel, hotdog, hot sauce, popsicle, pizza
Eclectic & regional rattles – NYC metro card, big apple, Brooklyn bridge, bike Brooklyn, Statue of Liberty, Golden gate bridge, evil eye, mermaid, purse & lucky clover
Holiday rattles – Santa, snowman, gnome, miracle on 34th street and gingerbread man.
Estella also offers a lovey blanket collection, dolls, nursery décor pillows, charms, organic baby clothes, newborn rompers and much more. Estella is available at its online boutique, at Barney's New York, The Company Store, Amazon and at the finest baby boutiques, Museum shops & gift shops nationwide.
Established in 2002, Estella is owned by husband and wife team, Chike Chukwulozie & Jean Polsky. Estella is the leader in organic baby gifts, infant toys, baby suits, clothes and accessories. Estella has appeared on the Today Show, CNN.com, the Martha Stewart Show, Fox News, Vogue, Elle, The New York Times and much more.