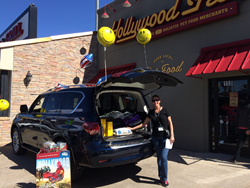 "It is important that we take the time to give back to the community, and to help these wonderful pet organizations do their work." Joette White, President of Park Cities Pet Sitter
Dallas, Texas (PRWEB) November 03, 2016
On Saturday, October 22nd, 2016, Park Cities Pet Sitter filled a sparkling new 2017 Sewell Infiniti QX80 SUV with donated pet supplies for local Dallas non-profit organizations, The Street Dog Project and Feral Friends Community Cat Alliance. With adoptable dogs from The Street Dog Project on hand to greet visitors, shoppers from the Inwood Road Hollywood Feed store location donated numerous bags and cans of food for the two charities.
Sewell Infiniti of Dallas donated use of a dark blue Infiniti QX80 for the day, while Park Cities Pet Sitter staff solicited donations from shoppers and passersby. Feral Friends Community Cat Alliance volunteers were on hand to answer questions about their organization, their Trap-Neuter-Return strategies and learn more about their adoptable cats. Volunteers from The Street Dog Project--plus two of their most photogenic adoptable dogs, Grimley and London--were also on hand to educate people about their organization.
"We love supporting charities like The Street Dog Project and Feral Friends Community Cat Alliance," said Park Cities Pet Sitter President, Joette White. "The volunteers who work for both of these charities are so passionate about making a difference in the lives of pets who struggle for survival on our streets. They are very knowledgeable about what can be done to help these animals, and how best to do so, so it really is a privilege for us to do something to help them."
Donations during the 5-hour event included over 400lbs of dry food, 100lbs of wet food, cat litter and numerous types of treats. A large amount of tennis balls was also donated, a specific request of The Street Dog Project volunteers.
The Street Dog Project is comprised of a group of volunteers that are experienced at catching elusive dogs living on the streets of Dallas. In addition to capturing, fostering and rehabilitating street dogs, they also spend time in the economically disadvantaged communities where spaying and neutering of pets is not the norm, trying to educate and provide outreach to citizens in those neighborhoods.
Feral Friends Community Cat Alliance's mission is to assist the community in reducing cat overpopulation. They do this by assisting citizens implementing (TNR) Trap-Neuter-Return programs and by assisting with the adoption of non-feral cats.
Park Cities Pet Sitter's "Stuff the SUV" event kicked off their 5-week pet supply drive, which is part of the National Association of Professional Pet Sitter's national Presents 4 Pets program. Donations for The Street Dog Project and Feral Friends Community Cat Alliance will be accepted by Park Cities Pet Sitter through November 30th. Donations may be dropped off at the PCPSI offices from 10am-4pm at 5831 McCommas Blvd, or can be picked up by a Park Cities Pet Sitter staff member during any regularly scheduled pet sitting visit through the end of November.
"Park Cities Pet Sitter is a service-based organization," said White. "It is important that we take the time to give back to the community, and to help these wonderful pet organizations do their work. All of the money, food and supplies we collected today is going to be used for foster animals or to help disadvantaged families that love their pets and simply need a little bit of help to give them better care. We feel privileged to be able to do this for them."
About Park Cities Pet Sitter
PCPSI has served the Dallas area 7 days a week, 365 days a year since 1992. Pet sitting, daily dog walks, pet taxis, overnight sitting, pet supply shopping, litter box cleaning and dog training are all part of the services PCPSI offers. Park Cities Pet Sitter is bonded and insured, and all sitters are employees--not independent contractors. A manager is on-call 24 hours a day to handle any emergencies. Additional information about Park Cities Pet Sitter can be found on their website at http://www.pcpsi.com.