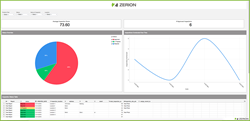 "Our existing products allow teams to streamline their data collection, but customers have expressed a need to simplify the reporting process post-collection, that's why Zerion Reports was designed." - Sze Wong, CEO
(PRWEB) November 07, 2016
Zerion Reports, a custom reporting tool, allows users to visualize data from the company's flagship product, iFormBuilder, and other sources in real time through the use of tables, reports and dashboards. In addition to easy-to-visualize analytics, Zerion Reports can be customized to send reports on a regular, recurring basis, with no action required from the end-user. The solution removes headaches and man-hours that would otherwise be required for the reporting process.
"We believe that data is powerful, and that when it's managed properly, it's able to provide insight that allows for better decision making and a targeted focus; it's extremely valuable," explained Sze Wong, CEO of Zerion.
"Our existing products allow teams to streamline their data collection, but customers have expressed a need to simplify the reporting process post-collection," Wong continued, "that's why Zerion Reports was designed."
Zerion Reports allows for three primary functions: analyzing, reporting and collaboration.
The tool allows users to create reports and dashboards with a simple drag-and-drop interface. Calculations and logic can be added to reports through a custom, easy-to-use formula engine.
Reports can be built using a variety of charts, widgets, pivot tables and tabular view components. This makes it easy to access and interact with custom reports and dashboards from a mobile device or desktop browser.
Build and deploy reports that can be easily shared with team members via email, sharable PDFs and other means to enable better decision making across the board.
Other key features of Zerion Reports include:

Real-time data synchronization
Direct connection to iFormBuilder Data
Drag and Drop report building
Custom dashboard design
Key performance indicators (KPIs)
Sharing/Embedding reports to PDF and Excel
Email scheduling
Data blending
Conditional formatting
SQL-like queries
Zerion's mission is to empower teams to improve compliance and safety that lead to better decision-making; Zerion Reports is the newest tool to help accomplish this mission.
Interested in learning more about Zerion Reports and other custom data management tools offered by Zerion? Visit https://www.zerionsoftware.com/ today to request a demo and custom pricing.
Zerion is a mobile workflow company with a variety of tools and platforms designed to enable mobile data collection, dataflow automation, custom reports and secure storage. The company is based around the belief that Good Data is the ultimate indicator of successful teams, allowing them to focus on what matters most. Zerion's clients represent various industries, including Agriculture, Healthcare, Engineering, NGO and the Government/Public Sector. For a full range of products and services, visit http://www.zerionsoftware.com/.