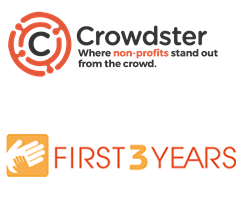 Brookville, NY –
November 3, 2016 (PRWEB) November 05, 2016 -- Crowdster, a leading provider of online fundraising solutions including the most advanced third party peer-to- peer fundraising platform, FriendRaiser TM, today announced one of its newest clients – Texas based First3Years.
First3Years is a recognized leader in education and advocacy for infant and toddler development, and is the only organization in Texas working across sectors to improve the quality of care for infants and toddlers. First3Years believes that supporting the social emotional development of infants and toddlers is critical to building a better, stronger future for all of Texas. 
"Babies can't wait," says Sadie Funk, First3Years Executive Director. "The future of our community, our economy, and the future of how we see ourselves, interlinked with one another—all of this is at stake. And all of it, 20 years from now, is dependent on how we treat young children and their families today."
"We are pleased to be working with First3Years on implementing a FriendRaiser TM solution to drive awareness of their programs across Texas and beyond," said Robin Lederer, Crowdster VP.
First3Years is reaching out for support using FriendRaiser TM to continue educating, advocating, and collaborating to ensure that every Texas infant and toddler gets a strong start in life.
Three teams will lead the campaign - Members, Volunteers and Students - with webpages to reach family, friends and colleagues through the platform social media capabilities, (CLICK HERE). Contact Soudary Kittivong-Greenbaum to join the campaign and create your own team or personal webpage.
Crowdster's other clients include The Cystic Fibrosis Foundation, The Bone Marrow Foundation, The Navigators, Action Against Hunger, and many others.
For more information, contact Crowdster CEO Joseph Ferraro at (516) 501-9366.
About Crowdster:
Founded in 2007, Crowdster (formerly Karma411) is focused on supporting non-profit and for-profit social enterprise companies to help them achieve their mission. We do so by offering a powerful online fundraising platform combined with advanced fundraising marketing services including creative services, event planning & execution, email marketing and other digital marketing services.
About First3Years:
Eighty (80%) of brain development occurs between ages 0-3, and lifelong learning capacity and emotional resilience are shaped during these formative years. First3Years educates, advocates, and collaborates to advance the healthy development of infants and toddlers—focusing on building long-term, sustainable solutions to advance the health and development of young children and their families.