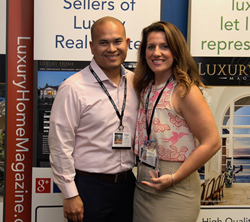 We are honored to present the Distributor of the Year Award to Solar & Jessica Hing of Charlotte, NC - Brad & Cathy Taylor - LHM Corp
El Dorado Hills, CA (PRWEB) November 07, 2016
Luxury Home Magazine announced the winners of its most prestigious awards during the company's national luxury real estate conference last month in Los Alamitos, Calif. During the conference, extensive time was spent on the evolution of print, digital and online technologies in addition to social and mobile trends moving forward.
Rookie of the Year award recipient was LHM Nashville publishers, Cameron & Alexa McGraw
Taylor Salute award recipient was Tomas & Christina Martinez, publishers from LHM San Antonio
Distributor of the Year was presented to LHM Charlotte publishers, Solar & Jessica Hing
During the Luxury Home Magazine National Conference, eight markets were recognized with a 10 year award. Phoenix Arizona, Hawai'i, Washington DC, Seattle Washington, Tampa Florida, Dallas Fort Worth Texas, Sacramento California and Denver Colorado.
Finally publishers Emile & Raina Bonfiglio of LHM Portland/SW Washington won first place in the Distribution Video Award
All the publishers recognized and honored at the Luxury Home Magazine Conference exemplified passion, belief, posture and relatability in representing the Luxury Home Magazine brand nationally.
About Luxury Home Magazine:
Since 2002 Luxury Home Magazine a niche publication and media company has consistently adapted to both the needs of their clients and publishers, never forgetting their culture, process, system and structure.
Today, Luxury Home Magazine is the largest network of market specific Luxury Home Magazines targeting the most affluent and influential demographic audiences locally, regionally, nationally and internationally.
"As Luxury Home Magazine continues to provide a superior market-specific product, we are driven to give our Publishers more technology and real-time training. Our goal is ultimately to be a resource to not just our Publishers, but to our Clients and their Clients as well. Our Team, our Vision, our Values and our Focus are the driving forces as we continue opening magazines throughout North America." -Brad Taylor, CEO-LHM
Luxury Home Magazine® is a division of Sunshine Publication, Inc. / LHM Media Group. Publishing Opportunity information and digital magazine content can be found at http://www.LuxuryHomeMagazine.com.