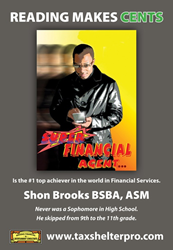 Brooks Financial & Entertainment Consultants goal is and always has been to increase ratings for all of its partners, and I hope people will come out to see me and these great new films at the movies.
New York, New York (PRWEB) November 04, 2016
Shon Brooks, CEO of Brooks Entertainment Inc., is one of the Internet Movie Database (IMDB) "STARmeter" leaders in the star search categories. As noted, a Time Warner (Spectrum) - TV Editorial Excellence Award Winner for covering the Olympic Games, Game Changer by Invention Magazine, named Superhero by 'On Wall Street Magazine,' Advisor.CA Magazine, and Financial Planning Magazine.
The Super Financial Agent will face off against Wall Street Criminals in an attempt to bring fugitives in by utilizing the scales of justice. The Brooks Financial & Entertainment Consultants brand is slated for hitting the big screen with the world's best content, biggest budgets, best talent, and blockbuster storytelling. The brand's silver screen magic will contribute to the best of Hollywood by appearing before the upcoming hit movies "Dr. Strange" and "Rogue One: A Star Wars Story."
When Shon Brooks was asked on his thoughts of being back on the big screen, he says, "I'm thrilled to have my message in front of a great millennial movie-going audience inside these beautiful 50 foot-screen movie theaters in San Diego to Las Vegas. It is equally important to be selected to play roles.... which often serve as role models. Brooks Financial & Entertainment Consultants goal is and always has been to increase ratings for all of its partners, and I hope people will come out to see me and these great new films at the movies."