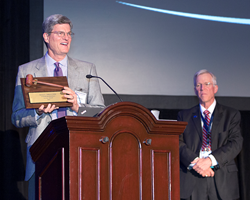 Dentistry's role in patients' overall health continues to grow. The oral cavity is a window into total health and patients often see their dentist more regularly than their physician. As Witt says, 'let's not just save a smile, let's save a life'
St. Petersburg, FL (PRWEB) November 14, 2016
DeWitt Wilkerson, DMD was inducted as President of the American Academy of Oral Systemic Health at the annual AAOSH meeting on September 17, 2016 in Orlando, Fla.
Dr. Wilkerson is the Director of Dental Medicine and Senior Faculty member at The Dawson Academy. Joan Forrest, President and CEO of The Dawson Academy said, "Witt Wilkerson brings his experiences in organized dentistry, particularly in his past role as President of the American Equilibration Society, to AAOSH. His leadership is sure to propel AAOSH to the next level as this young organization continues to grow."
When asked about his new role within AAOSH Dr. Wilkerson said, "I'm excited, through my leadership opportunity in AAOSH, to be able to encourage dental teams and patients to jump aboard an important national movement."
He also shared, "The field of dentistry will soon be experiencing a dramatic shift in emphasis, especially related to two topics: the importance of airway evaluation and management in the dental office and the critical role of systemic inflammation as it relates to periodontal disease, airway disorders, healing, etc."
Forrest adds, "Dentistry's role in patients' overall health continues to grow. The oral cavity is a window into total health and patients often see their dentist more regularly than their physician. As Witt says, 'let's not just save a smile, let's save a life.' "
The mission of the American Academy of Oral Systemic Health is to create a network of dedicated health care leaders working to change professional and public behaviors and address the importance of oral health as it relates to whole body health.
Dr. Wilkerson shares some of his own knowledge and experience on the topics of disordered breathing, sleep apnea, systemic inflammation, nutrition and more at upcoming Dawson Academy courses. You can find out more information about those courses at https://thedawsonacademy.com/electives.
About The Dawson Academy
The Dawson Academy is an international provider of science-based dental continuing education, teaching dentists to comprehensively diagnose and treat dental problems with excellence and integrity. The Academy has taught dental courses to the dental industry for over 35 years and is dedicated to teaching the principles and skills necessary for the successful practice of complete, quality, and predictable dentistry. The Dawson Academy's goal is "to make good dentists even better."