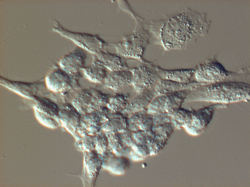 For a developing company, patents are the core of value and allow us to protect our investment.
Poway, CA (PRWEB) November 08, 2016
VetStem Biopharma, Inc., announced the purchase of 24 issued US and foreign patents in the field of adipose stem cell therapy. These already issued patents cover a wide range of methods and uses of adipose stem cells including coverage for therapeutic use in neurologic, hepatic hematologic, and skeletal/smooth muscle diseases and injury. Key may be the coverage for spinal and CNS trauma and disease that are very common in humans and animals. These acquired patents provide substantial expansion of the VetStem portfolio, now in excess of 70 issued patents and cover veterinary and human use.
The VetStem patent strategy has been to assure freedom to operate and to license and own patents that provide for protection of our current commercial operations and protect the products in development. "For a developing company, patents are the core of value and allow us to protect our investment. We also out-license to compatible companies bringing complementary products and services to the human and animal markets" says CEO/Founder Dr. Robert Harman.
The recent issuance of VetStem's own adipose stem cell patent in the EU and US provides broad coverage of adipose stem cell extraction and therapeutic use in orthopedics in both human and veterinary markets. VetStem is already in discussions to license this patent to human stem cell companies, providing additional income streams to support further its FDA product development program.
VetStem anticipates its first FDA product approval, for canine osteoarthritis, in 2018 and is seeking global partners for broad commercialization. This product will be marketed in the US by Aratana Therapeutics, VetStem's US licensee and commercial partner. Licenses are available for ex-US territories.
About VetStem Biopharma
VetStem Biopharma is a veterinarian-lead company that was formed in 2002 to bring regenerative medicine to the profession. This privately held biopharmaceutical enterprise, based near San Diego (California), currently offers veterinarians an autologous stem cell processing service (from patients' own fat tissue) among other regenerative modalities. With a unique expertise acquired over the past 14 years and 12,000 patients treated by veterinarians for joint, tendon or ligament issues, VetStem has made regenerative medicine applications a therapeutic reality beyond the realm of research. The VetStem team is focused on developing new clinically practical and affordable veterinary solutions that leverage the natural restorative abilities present in all living creatures. The company's stated mission being "to extend and enhance the lives of animals by improving the quality of recovery in acute conditions, but also by unlocking ways to slow, stop and ultimately revert the course of chronic diseases". In addition to its' own portfolio of patents, VetStem holds exclusive global veterinary licenses to a portfolio of over 70 issued patents in the field of regenerative medicine.