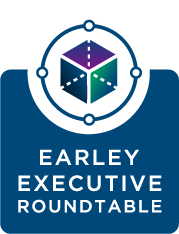 ...companies should close the content strategy gap by redesigning their marketing programs with quality, not quantity, in mind, and with the customer's needs at the heart of each message...
Carlisle, MA (PRWEB) November 07, 2016
If content is king in the digital age, far too many companies are operating without a crown, putting themselves at a competitive disadvantage by not having an effective content strategy program in place.
That's the conclusion of a panel of online marketing experts, who unveiled a systematic approach to solving the problem at an Executive Roundtable discussion hosted on Oct. 26 by Earley Information Science Corp. (EIS), a leading consulting firm focused on digital transformation.
Too often, the experts said, companies use a scattershot program to communicate with their online audience that is both expensive and brand damaging, and then try to address the problem by increasing the volume of their misguided messages. But instead of doubling down on an ineffective approach that only adds to the noise, companies should close the content strategy gap by redesigning their marketing plans with quality, not quantity, in mind, and with the customer's needs at the heart of each message.
The discussion, "Designing a Next-Generation Content Strategy," was led by Dave Zwicker, Chief Marketing Officer of EIS, and featured Seth Earley, Chief Executive Officer and founder of EIS; Steve Walker, Practice Leader/Global Content Solutions, Experis; and Alexandra Tyler, Principal/Digital and Content Marketing, Tyler Consulting.
Everyone is using online content of one kind or another to market their products or services, the experts noted. But while nearly three out of four companies say they have a strategic approach to content creation and distribution, fewer than one out of three employs a formal documented program that is consistently aligned with the company's business goals and fully integrated in its operations, the panelists said, pointing to a number of industry studies.
What is needed is an overarching content strategy that "addresses multiple aspects" of the marketing operation, EIS's Earley said. Besides supporting the objectives of the business itself, a formal strategy harnesses marketing's technical capabilities to produce the right kind of content for the company's audience, organizes the design effort and measures the program's effectiveness.
Even though there are a lot of moving pieces, an effective strategy "doesn't have to be that hard to put in place," Earley added, boiling it down to three steps. First, you have to understand your users, and their marketplace challenges and unique perspectives. Then you have to synthesize your findings and iterate, again and again, your design of the content, user experience and other elements. And, third, you have to build a playbook to monitor, measure and govern the program. Who's going to manage and own it? How is it going to be funded? Once the playbook is ready, "you have to roll it out, business unit to business unit, department to department, channel to channel."
"Your execution framework," said Steve Walker, "consists of properly aligned people, process and technologies." Deficits in any one of those components, he said, will result in "inefficiencies, implementation challenges or ineffectiveness."
To minimize those deficits, change management is needed. "Firms must be ready, willing and able to accept and embrace new ways of working to ensure future success," said Alexandra Tyler. Is everyone on board the train? Are people excited or skeptical? Do they have the tools to get the job done? Do they understand how success can be measured?
"Content is a strategic asset," Ms. Tyler said, the linchpin "to keeping firms relevant in a multi-device, multi-channel landscape." To avoid contributing to the "explosion of clutter" that is littering the landscape, you have to separate your audience into segments, learn a lot about their habits, behaviors and motivations, and then personalize each segment's content. Finally, you have to "measure quality, not quantity."
The goal, EIS's Earley said, "is to very precisely understand the context in which the customer is trying to support a particular task or accomplish a specific goal," whether it is to perform research, make a purchase or do something else. "It's about giving people exactly what they need when they need it."
The roundtable featured a real-time survey of the webinar attendees, including these results:

Only 22% said that they have formalized and documented their content strategy
Just 5% said that they have aligned their content strategy with digital transformation and IT. Nearly a third said that these efforts are more "siloed" than aligned
Half said that measuring and managing content is their biggest challenge. Others pointed to justifying investments in technology (35%) and finding content creators (15%)
Please use this link to access the content strategy roundtable recording.
About Earley Information Science: EIS helps organizations establish a strong information architecture and management foundation to drive strategic business outcomes and enhance operational performance. EIS has more than 20 years of experience in working with Fortune 1000 organizations globally across many industries. Corporate headquarters are in the Boston metropolitan area with consultants working on projects around the world. For more about Earley Information Science, visit our website at http://www.earley.com or contact us at info(at)earley(dot)com.