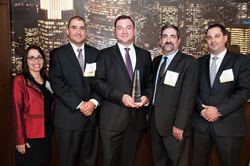 New York, NY (PRWEB) November 08, 2016
The New York Energy Consumers Council (NYECC), the largest energy customer advocacy organization in New York State, today announced its 2016 Energy New York Awards (ENYA) recipients.

Emily Kildow, Sustainability Manger and John Soden, Director of Operations, Taconic Management Company, for their innovative sustainability work at Taconic's commercial portfolio in NYC. The portfolio exceeded the goals of the Mayor's 2030 Challenge, which called for a 30% carbon savings by 2030. They have since committed to a carbon savings of 50% by 2025.
Alec Saltikoff, Global Head of Sustainability, JPMorgan Chase & Co., for his sustainability, energy efficiency and procurement efforts for the global real estate portfolio which is in excess of 75 million square feet . Under his leadership, the firm is on track to meet its goal and reduce its Green House Gas emissions by 50% by 2020, having already reduced its footprint by approximately 33% from its 2005 baseline.
The following individuals and organizations were also honored at the November 2nd event.

Richard T. Anderson, President of the New York Building Congress, for his decades-long commitment to strategic urban planning and economic development.
Mike Donnolo, Engineering Manager, The Durst Organization for overseeing a $25 million mechanical upgrade, incorporating some of the latest technologies.
RXR Realty, for leadership on sustainability initiatives in all of its assets and spearheading the creation of the West Chelsea Energy Alliance.
The ENYA honors organizations and individuals who demonstrate exceptional leadership and innovation in smart energy use and conservation, and whose work has impacted beyond their individual buildings or sites.
Diana Sweeney, Executive Director, NYECC noted "at a time when reducing our carbon footprint while ensuring electricity grid reliability is so imperative, we are pleased to honor those who have made significant impacts in this area at our annual ENYA event."
The NYECC appreciates all of the 2016 ENYA event sponsors. Diamond level sponsors: Taconic Investment Partners LLC and Constellation Energy Group. Sapphire level sponsors: Aggressive Energy, Forest City Ratner Companies and The Rockefeller Group.
About The New York Energy Consumers Council (NYECC)
The New York Energy Consumers Council represents the interests of major energy users in New York City and Westchester County and strives to ensure that the local utility provide safe and reliable delivery of energy at just and reasonable rates. The NYECC provides collective strength for its members through ongoing interventions in numerous proceedings before the New York State Public Service Commission. The Council also provides advocacy for its members in arenas such as the New York Independent System Operator and the Federal Energy Regulatory Commission.