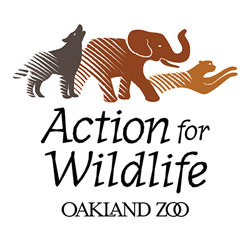 California Wolf Center is incredibly grateful to have been involved in Oakland Zoo's Quarters for Conservation program this year
Oakland, CA (PRWEB) November 08, 2016
Oakland Zoo has raised over $104,000 this past year through 'Quarters for Conservation,' an ongoing program where 25¢ of every ticket sold is designated for helping animals in the wild through the Zoo's conservation partners worldwide.
"The future of wild animals is in the hands of each and every one of us and it is our job as a conservation-focused zoo to engage our community in real wildlife conservation actions. With Quarters for Conservation, our visitors are taking action every time they visit the zoo. We thank our community for their role in offering vital support to these inspirational projects," said Amy Gotliffe, Director of Conservation at Oakland Zoo.
Fifty percent of the funds will go directly to three featured conservation programs in the field that help save wolves, chimpanzees, and Bay Area birds. The three recipients of the funds this past year are The California Wolf Center, the Budongo Snare Removal Project in Uganda, and the Golden Gate Audubon Society.
"California Wolf Center is incredibly grateful to have been involved in Oakland Zoo's Quarters for Conservation program this year. We are honored to be supported by an organization that so highly values preservation of wild species and their habitat. Wild wolves thank the Oakland Zoo!," Christina Souto, Associate Director of California Wolf Recovery, California Wolf Center.
Twenty-five percent of the funds raised will be used towards Oakland Zoo's onsite conservation programs such as veterinary care for wild California condors and the Western Pond Turtle head-start program.
The remaining twenty-five percent of the monies helps support the Zoo's conservation field partners around the world, including: ARCAS, the Bay Area Puma Project, Bornean Sun Bear Conservation Center, the Kibale Fuel Wood Project, the Reticulated Giraffe Project, the Marine Mammal Center, the Mountain Lion Foundation, EWASO Lions, Ventana Wildlife Society, and the Uganda Carnivore Program.
Oakland Zoo's Quarters for Conservation Program has raised more than $500,000 since it launched in 2012.
Now, a new year of Quarters for Conservation (Q4C) begins again with featured beneficiaries including Proyecto Tití for cotton-top tamarins, the Iinnii Initiative for bison, and Oakland Zoo's Biodiversity Program for amphibians. See below descriptions for additional information about the 2017 partners:
Proyecto Tití (South America)
Cotton-top tamarins are tiny monkeys that only exist in the tropical forests of northern Colombia in South America. They are losing their home to deforestation, and are also victims of the illegal pet trade.
Proyecto Tití (Project Tamarin) is working to guarantee a future for this charismatic little monkey, by protecting their habitat and working with local communities, providing conservation education and income alternatives to reduce the unsustainable use of forest resources.
"We are so happy Cotton-top tamarins and Proyecto Tití were chosen as one of the Quarters for Conservation projects; it's exciting to know that many more people will be able to learn about the 'cutest' monkey on earth, and about our hard work to secure a long-term future for this amazing and charismatic primate, which is in the brink of extinction." – Rosamira Guillen, Executive Director, Fundación Proyecto Tití
Iinnii Initiative (Montana, USA)
Bison, North America's largest land mammal, once roamed the continent and played an important role in the prairie landscape. But today, wild bison are absent from most of their historic range, and their genetic diversity is threatened by isolated herds. Native Americans have long had an important spiritual and cultural relationship with bison. Oakland Zoo has partnered with the Blackfeet Nation and Wildlife Conservation Society (WCS) through the Iinnii Initiative, which will return bison to tribal lands in Montana, provide educational programs, and promote bison conservation and cultural preservation.
"We are excited to have Oakland Zoo's partnership in the Iinnii Initiative, which has and will continue to push forward the cultural and ecological significance of bison on the restoration of the Glacier-Waterton landscape," Keith Aune, Director, Bison Conservation Program, WCS North America
Oakland Zoo's Biodiversity Program
Frogs and toads may be small, but they are important species that show how healthy their environment is. All around the world, amphibians are struggling with the threats of habitat loss, climate change, non-native predators, and disease. Oakland Zoo's Biodiversity Program is working to save these special animals through intensive onsite conservation efforts for Puerto Rican Crested Toads and Mountain Yellow-Legged Frogs.
"Amphibian populations are declining at a much faster rate than either birds or mammals. In fact, more than 30% of the world's amphibian species are currently threatened with extinction, including the two species in Oakland Zoo's Biodiversity Program. Quarters for Conservation funds will allow us to breed and/or treat the critically endangered Puerto Rican Crested Toads and Mountain Yellow-Legged Frogs so they can re-populate in the wild," said Margaret Rousser, Zoological Manager, Oakland Zoo.
For more information on the above programs, visit: http://www.oaklandzoo.org//Quarters_4Conservation.php
Contact: Erin Harrison, Senior Manager, Marketing / PR, (510) 632-9525 ext. 135, eharrison(at)oaklandzoo(dot)org
Contact: Amy Gotliffe, Director, Conservation, (510) 632-9525 ext. 122, amy(at)oaklandzoo(dot)org
ABOUT OAKLAND ZOO
The Bay Area's award-winning Oakland Zoo is home to more than 660 native and exotic animals. The Zoo offers many educational programs and kid's activities perfect for science field trips, family day trips and exciting birthday parties. Oakland Zoo is dedicated to the humane treatment of animals and wildlife conservation onsite and worldwide; with 25¢ from each ticket donated to support conservation partners and programs around the world. The California Trail, a transformational project that more than doubles our size, opens in 2018, and will further our commitment to animal care, education, and conservation with a focus on this state's remarkable native wildlife. Nestled in the Oakland Hills, in 500-acre Knowland Park, the Zoo is located at 9777 Golf Links Road, off Highway 580. The East Bay Zoological Society (Oakland Zoo) is a nonprofit 501(c)3 organization supported in part by members, contributions, the City of Oakland and the East Bay Regional Parks. For more information, go to: http://www.oaklandzoo.org