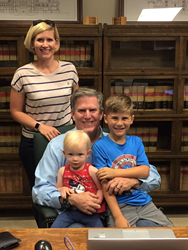 I'm a lifelong Democrat, but this job is not about Democrats or Republicans, this job is about the natural resources of the state of Washington. John Turner
Olympia, WA (PRWEB) November 06, 2016
Local hero, police chief John Turner, adds his support for Steve McLaughlin for Commissioner of Public Lands: "Steve is a man of his word and can be trusted above reproach."
John Turner, a retired police chief has known Steve McLaughlin for about 13 years as he was the executive officer for Naval Station Everett. "Steve McLaughlin is well-known throughout the state amongst every firefighter, police officer, dispatcher throughout the State of Washington for his training of the Incident Command System. The job of Commissioner of Public Lands is extremely important. Steve McLaughlin cares about both sides of the state. He cares about bringing people together to solve problems versus a Seattle litigator who enjoys suing cities and counties and others for not getting their way, that's what's at stake here. I'm a lifelong Democrat, but this job is not about Democrats or Republicans, this job is about the natural resources of the state of Washington and whether or not we want to preserve them and get the most out of them for us and for our children," said John Turner.
John Turner received the Washington State Bar Association Local Hero Award in recognition of his career of service to the community as a law enforcement officer. Chief Turner served his community as a law enforcement officer for 40 years. He also served on a variety of boards and task forces, including the Governor's Council on Substance Abuse, the Governor's Juvenile Justice Advisory Committee, the Snohomish County Youth Gang Task Force, and the Washington Association of Sheriffs and Police Chiefs. Since 2004, he has served on Governor Gregoire's Clemency and Pardons Board, most recently as its chair.
"I have known and worked with Commander Steve McLaughlin for the last 13 years. He is conscientious and dedicated to make this a better state to live, work and play. He has a love of the outdoors that is equal to no other. He is a man of his word and can be trusted above reproach. He has a love for this country and has risked his life trying to protect it. I am proud to have worked with him, taught with him, served alongside of him in many ways, and I'm most proud to call him my friend," said John Turner in his endorsement letter for Steve.
The Public Lands Commissioner oversees management of more than 3 million acres of trust land in Washington State for the benefit of schools and other beneficiaries. The position is responsible for managing the state's Department of Natural Resources, as well as oversight of the state's natural areas and aquatic reserves. The commissioner also oversees land transactions and serves as chair of the state's Forest Practices Board.
About Steve McLaughlin
Steve McLaughlin is a lifelong conservationist and avid climber, hiker, hunter, and fisher. As a career naval officer, McLaughlin led complex organization with thousands of employees. He oversaw both forestlands and aquatic lands for the U.S. Navy (Everett Homeport has 5,000 acres of timber and extensive tidelands) and helped conserve one of the last stands of old growth in lowland Western Washington. McLaughlin is supported by labor unions, Native Americans, farm and business groups, and veterans, among others. For more on Steve McLaughlin's campaign, visit http://www.mac4lands.org.