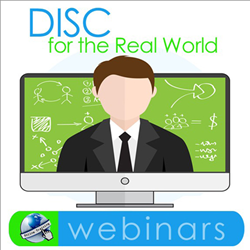 Boardman, Ohio (PRWEB) November 08, 2016
Leadership is a two-way street. No matter what your job title, you are only truly a leader if others are willing to follow you. The key to successful leadership is in understanding the relationship between leader and follower, and making sure the dynamic is one based in mutual trust, respect, and support.
For those looking to improve their leadership skills, PeopleKeys today announced their plans to air a free webinar called "Follow Me!" The webinar will at 2pm EST on Friday, November 11th, and will focus on developing leadership skills that inspire, empower, and motivate others. The webinar will use techniques based in DISC personality analysis to highlight the connection between leadership and personality, showing participants how to seamlessly adapt leadership strategies to meet the needs of different personality types.
PeopleKeys Master Trainer John Schindell and creator of "Follow Me!" said, "Understanding the dynamics that are created between different personality types is one of the most important steps in becoming a strong leader. No matter how smart, determined, or well-intentioned you are, it's possible that your instinctive leadership style might be clashing with the personality traits of the people around you. Ultimately, the way you communicate with others is the key to your success as a leader. The answer to the question 'Why should someone follow me?' isn't about who you are. It's about the people you're leading. What do they need in order to feel supported, motivated, and inspired? The best leaders understand that dynamic and know how to draw people in and influence them in a positive way."
Schindell went on to explain that techniques learned in "Follow Me!" can also be used to:

Implement leadership strategies tailored to the needs of different personality styles
More effectively inspire, empower, motivate, and communicate vision to others
Gain a greater understanding of what motivates you and the people around you
Capitalize on your inherent leadership strengths while minimizing your limitations
Bring out the best in others while maximizing the performance of your team
The free "Follow Me!" online training will air on Friday, November 11th at 2pm EST. The webinar will stream live at peoplekeys.com, and will be available on demand the following day. "Follow Me!" will be presented as a part of the popular PeopleKeys Webinar series, which includes monthly installments of free interactive 30-minute training sessions on a variety of real-world issues. For more information about PeopleKeys, their personality testing and behavioral analysis tools, or to register for the November 11th "Follow Me!" webinar, visit peoplekeys.com.
About PeopleKeys
PeopleKeys has been providing tools to measure the connection between personality and human behavior for over 30 years. PeopleKeys believes that an understanding of human behavior can be used to create effective leaders, improve relationships, streamline productivity, improve communication, and reduce stress. Their DISC personality tests and behavioral analysis tools have been translated into over 23 different languages, and are sold around the world. For more information about PeopleKeys and their DISC solutions, please contact Marketing Manager Kaitlyn Miller at 330-599-5580 x113.