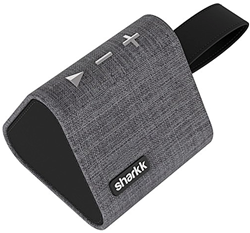 Livingston, NJ (PRWEB) November 08, 2016
Sharkk, a leading technology and lifestyle brand, today announced a new line of premium Bluetooth speakers that pay homage to popular technology pioneers. The Legend Series includes the Lodge, the Watson and the Graham — each speaker named for a historical pioneer in the field of technology.

The Watson: Named for Thomas A. Watson, who is credited with being the manufacturer of the first telephone. This 5W speaker features a triangular design with a premium denim finish, Bluetooth 4.2, a 500mAh battery and 3-dimensional buttons across the top.
The Lodge: Named for Oliver Lodge, whose findings were pivotal in securing key patents for the radio and loudspeaker. The 12W Lodge is powered by dual 6W speakers and features an elongated triangular design with a premium denim finish, 3-dimensional buttons, Bluetooth 4.2, and a 2000mAh battery.
The Graham: Named for Alexander Graham Bell, the inventor of the first working loudspeaker, which was later incorporated into the first telephone. This 20W speaker features a sleek, modern design with dual 10W speakers, Bluetooth 4.2 and a 2500mAh battery.
"With the ongoing advancement of technology, people seem to forget many of the amazing men and women that started it all," says Sharkk CEO Dov Brafman, "With the Legend Series, we want to help carry on their legacy for a new generation."
Each speaker in the Legend Series comes with USB charging and auxiliary (AUX) cables, and also feature hands-free calling. As with all Sharkk products, each speaker also carries a full one-year warranty.
The Watson is available now at Sharkk.com and Amazon for $24.99, while the Lodge & Graham will follow and be available in time for the holiday season.