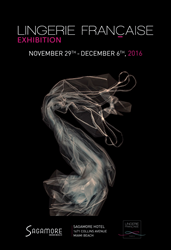 Miami Beach, Florida (PRWEB) November 10, 2016
Promincor - Lingerie Francaise, the Association for the Promotion of Corsetry Industries, presents Lingerie Française Exhibition, a retrospective covering over 150 years of French lingerie at this year's upcoming Art Basel Miami Beach. The Exhibition will be displayed throughout the public art spaces of the Sagamore Hotel from November 29th through December 6, 2016. It will feature 100 pieces of influential and iconic lingerie, each item illustrating significant developments in fashion, technological innovation, legendary craftsmanship, the morphing silhouette and the ever-evolving ideals of feminine propriety.
Lingerie Française Exhibition features items from the private archived collections of 11 renowned French lingerie manufacturers including Aubade, Barbara, Chantelle, Empreinte, Implicite, Lise Charmel, Lou, Louisa Bracq, Maison Lejaby, Passionata, and Simone Pérèle. The Exhibition explores the relationship between women, fashion, and lingerie, charting the evolution of societal values through the changing form of French lingerie from the 1880's through the present, and showcases how undergarments have transformed the female form through time.
On display, and free for the week during Art Basel Miami Beach, the retrospective, curated by fashion historian Catherine Ormen, showcases 150 years of French Lingerie, featuring pieces ranging from corsets, girdles and bras, as well as bustiers, slips, panties, briefs, tangas, thongs and garter belts alongside contextual films and advertisements that will bring to life the pieces from each era. It includes a holographic movie and photos from Gilles Berquet, a master of erotic pictures. This exhibition will accompany the Sagamore art presentation of the Sagamore's art presentation which will showcase various contemporary works by Annie Goetzinger, Frederic Leglise, Gilles Berquet, M. Van Huijkelom, Sabine Pigalle, Vincent Corpet, and Yoichiro Sato focused on seduction, glamour, fashion and of course, women.
About Promincor – Lingerie Française 'Promincor - Lingerie Française,' the Association for the Promotion of Corsetry Industries, brings together, French lingerie brands that share common values. By organizing events, press conferences and fashion shows, their aim is to enable member brands to express themselves with a single voice, not just in France but especially on the international scene.
This exhibition is made possible by 'Defi - La Mode De France,' the Committee for the Development and Promotion of French Clothing, which promotes France's apparel industry via training programs for producers and marketers of clothing and expert products worldwide and is partnered with Promincor - Lingerie Française, in the execution of this prestigious annual event.
# # #
Link to dropbox file with hi-res images from the collection and select art pieces below.
Photo credits listed in adjoining document.
https://www.dropbox.com/sh/pkut61bm6adf3ia/AAACdGIIZ7Vqg8OynY0p4jRZa?dl=0