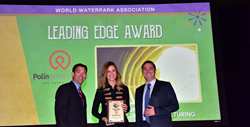 Polin offers the industry's widest range of products, including signature rides such as the patented King Cobra, Magic Sphere, Spheres, Magicone, Space Shuttle and Space Race.
(PRWEB) November 25, 2016
Polin Waterparks has been recognized for its expertise in innovation with its award of the 2016 World Waterpark Association's prestigious Leading Edge Award for "Innovation in waterslide manufacturing that allows for artistic theming, unique patterns and sound effects." The WWA's Board of Directors selected Polin Waterparks for the exclusive honor based on the company's unique, pioneer and exclusive waterslide manufacturing technologies like Closed Molded Manufacturing Technology, Natural Light Effects, Special Pattern Effects, Patterned Translucency, Slide'n Roll, Translucent Slide Parts and new design options that allow parks to offer customized theming, story telling, spectator appeal and interactive rider experiences.
Polin Waterparks previously was honored by WWA with the Leading Edge Award in 2014 for being the waterpark supplier for Cartoon Network Amazone Waterpark, located in Pattaya, Thailand. That award was designed to recognize a park and supplier member who, through their combined efforts, brought a project, product, service or program to fruition, thereby creating industry innovation and leadership.
The award that Polin Waterparks received this year had a different criteria. WWA defines the honor as: "Awarded to individuals or parks for creativity in the development of new themes, facilities, programs, services or operational concepts in the water attractions industry, and to suppliers who have developed new concepts, products or services to the benefit of park members, their customers or the water attractions industry."
The General Session of the WWA Show took place on Wednesday, October 12, at the Ernest N. Morial Convention Center in the Great Hall in New Orleans, LA at 11:30 a.m. WWA Chairman of the Board Mark Moore presented the award, which was accepted by Sohret Pakis, Director of Marketing & Communications and Dr. Kubilay Alpdoğan, Director of Sales and Design on behalf of the Polin Waterparks team. Kubilay Alpdoğan, Director of Sales and Design, says, "Winning this award is a great honor for Polin Waterparks and everyone on our team."
This year, Polin Waterparks celebrates its 40th anniversary in the waterslide manufacturing industry. "For the last 20 years, our company has invested a great deal into the industry. Our R&D backbone consists of more than 55 engineers in three sub-departments focusing on composites, hydromechanical systems and product design. This is our main strength. I am proud to announce that we are becoming a R&D center by 2017," Sohret Pakis, Director of Marketing & Communication says. "We have been the pioneer in resin-transfer molding (RTM) waterslide manufacturing and today we are the sole producer offering its entire line as RTM."
Another innovation that Polin Waterparks introduced was the development of Natural Light Effects RTM technology, followed by Special Pattern Effects, translucent RTM and patterned translucency. "We have continually invested in new technologies and advancements over the years," Pakis explains. "And, last year, we introduced our artistic series of finishes."
The new finishes replicate the appearance of graffiti, wood and metallics, among other designs. "This technology innovation turns waterslides into genuine works of art with both interior and exterior designs - fully embedded into the production of the slides. These innovations are critical to helping our waterpark partners with their story telling and theming. By offering these, we have changed the way the industry is able to deliver an experience to their guests," Pakis says.
Cartoon Network is a perfect example of this new trend in delivering experiences. By what Polin Waterparks introduced, the waterslides have progressed from being individual waterpark attractions and into becoming integral parts of a park's story - virtually characters themselves.
"We can't tell you how happy we are to contribute to this amazing industry, we are proud to announce that we are expanding that into a whole line of artistic themes that can fit into a wide range of park themes to enhance the storytelling. We will introduce 4 more designs at IAAPA Attractions Expo this year in Orlando," Sohret Pakis says. "This recognition of our passionate efforts by WWA means a lot. We gratefully send all of our thanks to the WWA board of directors and congratulate all the winners who are passionate about serving and contributing to this amazing industry. Together we are strong and successful. "
Watch Polin Team Receiving the Award
Please click to download high resolution of the photo
For those who will be traveling to Orlando, Florida, for the IAAPA Attractions Expo, please make sure to visit us at booth #1378. You can make register to attend using Polin's exhibitor guest code: M227421K. The registration page can be found here.