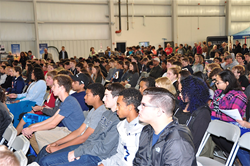 Our aviation community has come together to make dreams a reality for these students - Julie O'Brien, ProJet Aviation
Leesburg, VA (PRWEB) November 08, 2016
Over 700 regional students, educators, and parents attended the 10th Annual Aviation Education & Career Expo hosted by ProJet Aviation at their corporate aviation facility at Leesburg Executive Airport. $138,800 in college aviation and flight training scholarships were awarded to students who submitted essays describing their aviation aspirations.
"The ability to award this kind of scholarship money is very rewarding. Our aviation community has come together to make dreams a reality for these students," said Julie O'Brien, ProJet Aviation's Director of Marketing. "We have changed destinies with this financial and mentoring assistance."
The all-day event featured keynote speakers, industry leaders, performers, and demonstrators. Representatives from more than 56 aviation and aerospace businesses met with students throughout the day to share their experiences, and opportunities for future employment.
Speakers and demonstrators included: Shye Gilad, CEO of ProJet Aviation, Kelly Burk, Leesburg, VA Vice-Mayor, Tony Springer, NASA, the US Air Force Honor Guard Drill Team, Kwong Ko, RCA Operator and Drone Demonstrator, The Metropolitan Washington Airport Authority (K-9 Demonstration), Matt Crabbe, Agricultural Aviation Pilot, Heidi Kemner, National Transportation and Safety Board.
"Every organization has the opportunity - if not the obligation - to create value beyond profitability," said Shye Gilad, ProJet Aviation CEO. "It is inspiring to see so many industry leaders contribute to the next generation of aviation and aerospace professionals."
2016 scholarship winners are:

Gheorge Ciobanu, Centerville High School Student
Juan Garcia, Woodgrove High School Student
Micky Block, Hoover Middle School Student
Kyle Weller, Loudoun Valley High School Student
Brenda Garcia, Loudoun Valley High School Student
Cody Phelps, Tuscarora High School Student Frederick CTC Program
Riley Campbell, Homeschool Student
Benjamin Rudd, Nantucket High School Student
Lars Edward Davis, Current Pittsburgh Institute of Aeronautics Student
Simon Kadel, Walkersville High School Student
Jonathan Niles Schuch, Homeschool Student
Meredith Boardman, Liberty University College Student
John Disanza, Liberty University College Student
Erik Davenport, Monroe Tech Career Center Student
Noah Robinson, Gwynn Park High School Student
Muhammad Talaal, John Champe High School Student
Casey Ryan, Briar Woods High School Student
Trent Dixon, Central High School Student
Adrian Bobb, Community College of Baltimore County Student
Latrice Riddick, Aviation Institute of Maintenance Student
Tyreik Shaw, Northpoint High School Student
Anthony Martinez, Pittsburgh Institute of Aeronautics Student
August Shrader, Frederick CTC Student
Rodney Buckland, Chantilly High School Student
Ryan Sorensen, Woodgrove High School Student
Layke Martin, Frederick CTC Student
Christopher Ray, Aviation Institute of Maintenance Student
Scholarships and Corporate Sponsorships were donated by host sponsor ProJet Aviation, the Aircraft Owners & Pilots Association (AOPA), Air Culinaire, Av-Ed Flight School, Avemco Insurance, Averett University, Aviation Adventures, Aviation Institute of Maintenance, Aviation Week, Bowling Green State University, Cirrus Aircraft, Community College of Baltimore County, Easy FBO, Embry Riddle Aeronautical University, Frederick Flight Center, Geico Flight Department, General Dynamics, GIF-E North America, Greater Washington Business Aviation Association (GWBAA), The Hoxton Agency, Kansas State University, Liberty University, Marywood University, National Agricultural Aviation Association, National Air Transportation Association, Paragon Aviation Detailing, Paramount Business Jets, Phacil Inc., Pittsburgh Institute of Aeronautics, Eastern Shell Fuels, Sugarloaf 99's, The Aviation Foundation, Toth Financial Services, USAIG Insurance, Vaughn College of Technology, and Women in Aviation.
###
About The Aviation Education & Career Expo
The Aviation Education & Career Expo is one of the largest and most successful aviation education events in the United States, awarding hundreds of thousands of dollars in scholarships to high school students pursuing careers in the aviation and aerospace since its inception in 2005. Over 600 students attend the event each year, which features keynote presentations by industry leaders, static and live aviation demonstrations, and scholarship awards from universities, small businesses, and corporate sponsors. Cofounded by aviation professionals Julie O'Brien and Sarah Thompson, the Expo is committed to helping high school and college students explore the many career opportunities available to them through the world of flight. The Aviation Education & Career Expo is hosted by ProJet Aviation at Leesburg Executive Airport (KJYO), in Leesburg, VA.
About ProJet Aviation
ProJet Aviation is the DC metro region's premier aviation hospitality company, dedicated to helping people accomplish extraordinary things through the wonder of private flight. The company operates ProJet Center FBO at Leesburg Executive Airport (KJYO), the general aviation gateway to Washington DC, Dulles, and Virginia's Horse & Wine Country. Established in 2007 as a partnership between former airline pilot and entrepreneur Shye Gilad and noted entrepreneur and philanthropist Sheila C. Johnson, Founder & CEO of Salamander Hotels and Resorts, ProJet Aviation combines the operational integrity of the world's best airlines with the refined service of a world-class resort. ProJet's numerous accolades include recognition as a Washington Business Journal Best Place to Work, Loudoun County Chamber of Commerce Service Business of the Year, and an Inc. 500/5000 Fastest Growing Company. Find out more at ProJetAviation.com.