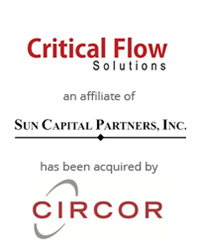 Charlotte, N.C. (PRWEB) November 07, 2016
BlackArch Partners is pleased to announce the sale of Critical Flow Solutions ("CFS" or the "Company") to CIRCOR International, Inc. ("CIRCOR"). CIRCOR, a leading provider of valves and other highly engineered products for markets including oil & gas, power generation and aerospace & defense, acquired 100% of CFS.
CFS, an affiliated portfolio company of Sun Capital Partners, Inc. and comprised of DeltaValve (http://www.deltavalve.com) and TapcoEnpro (http://www.tapcoenpro.com), is a global leader in the design, engineering, manufacturing and repair of severe-service equipment for the petroleum refining industry. DeltaValve and TapcoEnpro are market leaders in providing solutions for the delayed coking process and fluid catalytic cracking process in refineries, respectively. CFS has approximately 200 employees at its Sandy, Utah headquarters; Houston, Texas facilities; and Barnsley, UK service center.
BlackArch Partners was retained by CFS to serve as the Company's lead financial advisor. The transaction serves as another example of BlackArch's deep experience serving clients within the Energy and Diversified Industrials sectors.
Transaction Highlights
CFS:

Provides CIRCOR with differentiated technology and market-leading positions in niche markets with high barriers to entry;
Broadens CIRCOR's revenue base by expanding its presence in the stable downstream refining end market;
Increases exposure to high-margin aftermarket sales to support a large installed base; and
Offers opportunities for significant cost synergies.
The Company's management team will continue to lead CFS within the Energy Group of CIRCOR.
About Critical Flow Solutions
Critical Flow Solutions delivers a range of products and services to the petroleum refining industry. Through its DeltaValve business unit, the Company offers solutions for the delayed coking process of refineries, and through its TapcoEnpro business unit, the Company provides solutions for the fluid catalytic cracking process of refineries.
About CIRCOR International, Inc.
CIRCOR International, Inc. designs, manufactures and markets flow control solutions and other highly engineered products and sub-systems for markets including oil & gas, power generation, industrial and aerospace & defense. CIRCOR has a diversified product portfolio with recognized, market-leading brands that fulfill its customers' unique application needs. The Company's strategy is to grow organically and through complementary acquisitions; simplify CIRCOR's operations; achieve world-class operational excellence; and attract and retain top industry talent. For more information, visit the Company's investor relations website at http://investors.circor.com.
About Sun Capital Partners, Inc.
Sun Capital Partners is a global private equity firm focused on identifying companies' untapped potential and leveraging its deep operational and financial resources to transform results. Sun Capital is a trusted partner that is recognized for its investment and operational experience, including particular expertise in the consumer products and services, food and beverage, industrial, packaging, chemicals, building products, automotive, restaurant and retail sectors. Since 1995, Sun Capital has invested in more than 330 companies worldwide across a broad range of industries and transaction structures.
About BlackArch Partners
BlackArch Partners is a leading middle-market investment bank offering a full spectrum of advisory services to financial sponsors, private companies and diversified corporations. BlackArch addresses the needs of owner-operators, founders and shareholders of private companies with specialized services that include M&A advisory, strategic advisory and private capital solutions. Headquartered in Charlotte, NC, with offices in Houston, TX, BlackArch features a total of 12 industry-focused practices that cover all sectors of interest to middle-market investors; BlackArch professionals have closed more than 350 transactions in 16 countries on four continents. Please visit our website, blackarchpartners.com, for more details.
Securities offered through BlackArch Securities LLC. Member FINRA and SIPC. Testimonials may not be representative of the experience of all clients. Testimonials are not a guarantee of future performance or success.