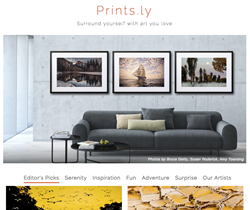 Bringing extraordinary artists and collectors together, Prints.ly believes art for your home should do much more than match your couch, it should be meaningful, memorable and inspirational.
Seattle, Washington (PRWEB) November 07, 2016
Prints.ly, the first online print sales platform designed entirely on the feedback of top photographers, launched today with an unparalleled community of 100 popular artists including world renowned photographers Ami Vitale, John Stanmeyer, and Maggie Steber, along with social media icons Pei Ketron, Rafael Mantesso, Tyson Wheatley and dozens of other established artists and rising stars.
Making it easy for consumers to collect work from the artists they admire, Prints.ly is the only online marketplace that offers Fuji's Crystal Archive papers along with gallery quality frames and 8mm archival mats that have more visual impact than those found in retail stores. "We wanted to create an engaging experience that brings photographers and fans together on a platform they can trust in terms of quality and customer service," says CEO and former Amazon developer Kevin Jaspal. "With free shipping and returns, and access to many of the world's most popular artists, I feel that we've accomplished something outside the bounds of typical online art galleries."
With hundreds of millions of ordinary images posted on social media everyday, Prints.ly cuts through the noise by showcasing artistic, meaningful photography that deserves to be shown in the homes and businesses of art lovers everywhere.
View their Top 100 List of extraordinary artists, and come see how Prints.ly is raising the bar in the world of online photography.