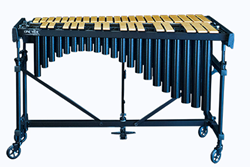 "The warmth and resonance are amazing" notes world percussionist Colin Currie who flew to Arcata to play on the One Vibe™ by Marimba One™.
(PRWEB) November 09, 2016
After years of R&D and listening to many vibraphones, Marimba One™ has released the One Vibe™ by Marimba One™: quality, full projection and warm resonance across the entire keyboard. Designed from the ground up by Ron Samuels and the same team of engineers and master craftsmen that bring the world's most respected marimbas. Marimba One™'s vibraphones are 100% designed and built in Arcata, California, USA.
"The warmth and resonance are amazing," says world-famous percussionist Colin Currie who flew to Arcata in late October to to play the instrument.
The full-size keyboard is 100% evenly dampened. When using the damper bar, all keys from top to bottom are 100% evenly dampened. Marimba One™ built a fine adjustment into the damper bar.
The gas spring height adjustment system allows musicians to raise and lower the vibe smoothly and effortlessly. Built-in tape measures insure a preferred keyboard height.
"Because fans always stop in the vertical position, there is no need to adjust the fans," explains Ron Samuels, founder and owner of the company. "The player is guaranteed the full resonance and projection of the vibe every time the motor is turned off."
Importantly for vibe players, the player can adjust the height of the damper pedal. The damper pedal swivels from side to side.
Responding to market demand for a vibraphone that can be easily taken to gigs, Marimba One™ engineered and built the most rigid frame in the industry, the easiest to assemble, and the lightest weight at 111 pounds (50 kg).
Marimba One™ is a manufacturer of high quality keyboard percussion instruments including marimbas, vibraphones and mallets. Nested between the Redwoods and the Pacific Ocean on the North Coast of California, Marimba One™ strives to produce the finest products for musicians.