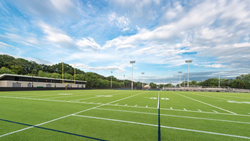 A state of the art facility using a surface such as the Shaw Sports Turf fields gives Simmons College and Brighton High School Athletics a decided advantage over its opponents...
Brighton, MA (PRWEB) November 08, 2016
After more than a century with no home playing fields for its outdoor athletics teams, Simmons College decided it was time for a change.
Entering into a unique public-private partnership, the college transformed a derelict grass field deemed unsafe for play by the state of Massachusetts into a state-of-the-art athletics complex.
The installation of the Shaw Sports Turf fields was completed at the beginning of September, and the school now boasts an NCAA Division III regulation soccer field, a Massachusetts High School compliant football field, an NCAA compliant softball diamond, an NCAA compliant lacrosse field, and an NCAA Division III field hockey field.
Beyond field condition and its impact on the safety of players and performance of the teams, among the key reasons the college switched to synthetic turf was the environmental impact.
"These fields abuts the Charles River, so we were especially concerned about fertilizers and other toxins that might be used on a natural grass field," said Jeremy Solomon, Director of Communications. "We also appreciated the conservation of water and cost savings by using a synthetic field that needs little to no extra water."
The $13.5 million state-of-the-art Daly Field Athletic Complex project featuring the Shaw Sport's Turf fields was a collaborative effort between the Commonwealth of Massachusetts, Simmons College, and community partners like Brighton High School and the Allston-Brighton Little League. Activitas of Dedham, Massachusetts provided the design work for the project.
The partnership prompted Massachusetts Governor Charlie Baker to say, "The rehabilitation of the Department of Conservation and Recreation's Daly Field serves as an excellent example of what can be accomplished when state government partners with private entities to achieve a common goal that will benefit and meet the needs of the public for years to come."
The hockey/softball field features the Momentum system. Fast, dense and firm, Momentum is a high-performance synthetic turf system designed with a proven slit film technology. In addition to its durability and performance benefits, Momentum's fiber construction results in an umbrella effect that helps hold infill and reduce overall fly-out. For their multipurpose football/soccer/lacrosse field, they installed Legion. Legion is a combination of high-performance monofilament fibers and a durable slit film fiber. The slit film fiber is a workhorse which will handle the workload, while the monofilament provides a more resilient surface that enhances performance characteristics.
Both surfaces will feature organic GeoFill infill, chosen by the school for its reputation as the most environmentally-friendly product on the market, domestically and internationally, for 10 years. Once again, because of its proximity to the Charles River, the environmental impact was a key consideration.
"We took the extra measure to protect the safety of our student-athletes, and the thousands of others who will use these fields in the years to come," said Solomon.
GeoFill provides the natural footing and support of a natural field without the mess of dirt and instability of other infill systems. It demonstrates great stability and excels in critical ball-to-surface interactions such as ball roll and ball bounce. It is not only a great, natural infill system, it helps create a high-performing, state-of-the-art playing surface.
There are over 500 GeoFill installations in the world today and that number continues to grow. In 2016, dozens of schools and programs in the United States have selected GeoFill for their synthetic turf system.
An added benefit of GeoFill is that it is inherently cooler than other synthetic playing surfaces. Coconut fibers have excellent moisture retention qualities that provide evaporative cooling. GeoFill fields have been seen to be as much as 40 degrees cooler than other synthetic fields. Other alternative infills claim to be cooler, but most are hydrophobic and cannot provide the cooling effect of GeoFill.
The new surface will benefit student-athletes by providing them the safest, most environmentally-friendly surface available, but beyond that, Solomon said, "Student-athletes will now have a home field to call their own for the first time in school history, which will provide a real home field advantage and instill pride in our institution."
f
Similar to Simmons, Brighton High School has not been able to play home games for more than 25 years because of the condition of their field, but that is no longer the case. The new athletic complex at Daly Field enabled its fans, alumni, and school community to finally enjoy a home football game in the opening week.
"A state of the art facility using a surface such as the Shaw Sports Turf fields gives Simmons College and Brighton High School Athletics a decided advantage over its opponents, and it also enables us to be a candidate to host conference, state, and national post-season matches," said Solomon.
The fields will be used by Simmons College athletics teams, as the home field for the Brighton High School football team, and as the facility for the local Allston-Brighton Little League teams. But it's also open to the community; for roughly 75% of playable hours, the facility will be open to community groups and individuals for recreational activities (by permit).
Shaw Sports Turf Territory Manager, Joe Kacevich, is pleased that he was able to offer Simmons College the most affordable, high-quality product for their individual needs.
"We value our partnership with Simmons and look forward to watching the institution and surrounding community benefit from the new turf fields," said Kacevich.
The first home matches by Simmons soccer were played on September 1st, and the first home football game for the Brighton High School Bengals took place on Friday, September 9th. Opening ceremonies took place the following day, with several elected officials on hand to celebrate the opening of the Daly Field Athletics Complex, highlighted by home games for the Simmons College soccer, field hockey, and tennis teams.
ABOUT SHAW SPORTS TURF
A wholly-owned subsidiary of Berkshire Hathaway Inc., Shaw Industries is a full flooring provider to the residential and commercial markets. Shaw supplies carpet, hardwood, laminate, resilient, and tile/ stone flooring products, as well as synthetic turf. Shaw Sports Turf is one of the leading synthetic turf companies in North America and has represented quality and innovation for more than two decades with over 1,500 successful installations, including an impressive list of high-profile field installations. For more information please visit http://www.shawsportsturf.com, call 866-703-4004 or find us on Facebook.
ABOUT SIMMONS COLLEGE
Founded in 1899, Simmons is the only undergraduate women's college in Boston, and maintains a history of visionary thinking and a focus on social responsibility. The college also offers world-class coeducational graduate programs in nursing and health sciences, life sciences and technology, liberal arts, library and information science, business management, and social work. Follow Simmons on Twitter at @SimmonsCollege and @SimmonsNews.