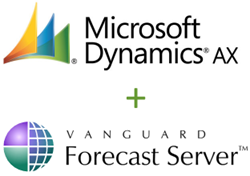 "We understand the scale and complexity of the ERP investment, and the difficulty that organizations have showing a positive net return on the process."
Cary, N.C. (PRWEB) November 08, 2016
Vanguard Software has outfitted its IBP platform for seamless, two-way integration with Microsoft Dynamics® AX and Dynamics 365 for Operations, the company announced today.
Vanguard's new connector and integration toolset brings it's best-of-breed forecasting and planning applications to AX users in days, versus weeks or months for other enterprise-scale planning platforms. The integration is ideal for organizations in various industries that use or plan to use Dynamics AX or its latest evolution, Dynamics 365 for Operations.
Vanguard IBP applications help organizations optimize production scheduling, inventory management, logistics, and financial planning. They are also fully integrated to drive the entire S&OP or IBP process.
"Unlike most other planning suites, the Vanguard IBP platform delivers easy, automated, two-way integration with AX in a manner that strictly follows Microsoft certification guidelines," said Jamie Loeks, Senior DAX Specialist in Supply Chain for Argo Turboserve Corporation (ATC), a Supply Chain Management (SCM) services company focused on Nuclear, Aerospace, Industrial Supply Chain, and Distribution & Services Industries. "Vanguard's integration technology automatically updates forecasts, min-max inventory levels and other key data across the two systems. As a result, these data are always current in AX," said Loeks.
Fast, Dynamic Integration for Fast, Dynamic ROI
"We understand the scale and complexity of the ERP investment, and the difficulty that organizations have showing a positive net return on the process," said Neal Goffman, VP of Sales and Marketing for Vanguard Software. "That's why we've geared our solution to drive value from ERP — and in short order."
Goffman said Vanguard IBP applications can be integrated in days, which means improved forecast accuracy and optimization can start driving returns immediately. That's in the form of lower safety stock, higher fulfillment rates, faster response to market changes, manual labor automation, and much more.
Vanguard IBP features detailed simulation and optimization modules that adjust for strong seasonal demand, limited historical sales, and more. It also features advanced automation, which applies the optimal forecast method (automatically), a key benefit for non-expert business users. Finally, collaborative workflow design ensures that the right people put the right knowledge and insight into the equation.
Benefits:

Complete set-up in days
Live synchronization with database
Dynamic data-push back to database: Forecasts, min-max inventory levels
Multiple implementation options: AX (AOS), files, web services
Unlimited time-series data capability
Strictly adherent integration technology — Microsoft Dynamics best practices
Web-based user access (on-premises and cloud) for real-time and remote data access, management, and reporting
Enterprise-class performance in capacity, speed, security, and accuracy
Vanguard IBP Dynamics AX
About Vanguard Software
Vanguard introduced its first product for decision support analysis in 1995. Today, thousands of companies across every major industry and more than 60 countries rely on Vanguard Integrated Business Planning (IBP), forecasting and advanced analytic solutions.
3000+ Customers
Small and medium businesses to global industry leaders
$580 Billion, and Growing
Total value of forecasts managed using Vanguard
68 Countries
Our products create value worldwide
$1.9 Billion
Average annual value of forecasts managed in Vanguard by the typical customer