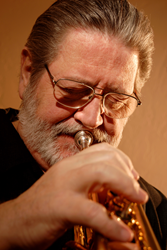 "It is incredibly rare to have access and interaction with an artist of Bobby's caliber," said John Wittmann, director, Artist Relations and Education, Yamaha Artist Services Indianapolis.
NEW YORK (PRWEB) November 08, 2016
Yamaha Corporation of America will honor legendary trumpet and flugelhorn musician Bobby Shew this week, in celebration of his 40th anniversary as a Yamaha Performing Artist.
Shew, who is widely admired as one of the jazz community's most in-demand clinicians and concert soloists, will be feted on Wednesday, November 9th at Yamaha Artist Services in Manhattan, in two, one-hour live streaming events, beginning at 5:30 p.m. ET, with "Yamaha Live with Bobby Shew", and followed at 8 p.m. ET by "A Yamaha Tribute to Bobby Shew." Both events will be streamed live at http://4wrd.it/YamahaLive. During Yamaha Live, viewers can ask Shew their questions through the chat feature on the online view, or by tweeting using #YamahaLive. During the tribute, viewers will be able to watch an intimate concert with Shew and a hand-picked band of favorite collaborators.
"It is incredibly rare to have access and interaction with an artist of Bobby's caliber," said John Wittmann, director, Artist Relations and Education, Yamaha Artist Services Indianapolis. "We are very excited that the Yamaha Live event will allow viewers from around the world to hear Bobby's stories, ask him their questions in real time and watch him play."
Renowned for his beautiful sound and ability to touch audiences, Shew has spent nearly five decades performing and recording with the elite of the music world, including the Tommy Dorsey Orchestra, Woody Herman's Band, Buddy Rich, Louie Bellson, Maynard Ferguson, Benny Goodman, Bill Holman and many other jazz greats. He spent many years performing in Las Vegas, followed by a move to Los Angeles, where he established a career as a much in-demand studio musician and later as a band leader and soloist, including the recording of many of his own albums.
Several of his albums received high accolades from critics and high placement on the airplay charts. "Outstanding In His Field" was nominated for a Grammy in 1980, while, "Heavy Company" was awarded the Jazz Album Of The Year in 1983. Soundtracks of TV shows he recorded include "Hawaii 5-O," "The Bob Newhart Show," "Mary Tyler Moore," "Taxi" and "Happy Days", to name a few. His work on film soundtracks includes "Grease I and II" and "Rocky I and II," among many others.
Shew's artistic relationship with Yamaha began when he first performed on the company's trumpets in the mid 1970's. Recalling his first meeting with Yamaha, Shew says, "I was on tour in Japan and was asked to try out a prototype of an instrument. After a few adjustments it was easy to play." That led to a long collaboration between with the company, culminating in Shew's assistance in creating the "Z" series of Yamaha trumpets and flugelhorns. "These instruments are absolutely the most tailor-made instruments I have ever played," says Shew. "They suit me beautifully for both lead and jazz playing and have made my life so much easier and enjoyable."
In addition to the YTR-8310Z trumpet, Shew collaborated with Yamaha on the development of the 6310Z trumpet and 6310Z and 8310Z flugelhorns.
In addition to a busy performing and private teaching schedule, Shew has spent a considerable amount of time actively involved in the educational system, conducting clinics and master classes at high schools and college campuses all over the world. His advice for musicians is simple yet profound: "Get to know who you are and follow that path."
To complement his teaching, Shew has also authored numerous educational articles in various trade magazines, all translated into several languages for worldwide distribution.
"It's natural for me to play jazz, it's where I belong," says Shew, reflecting on his life and work. "It's what's kept me alive to this very day."
For more information, please visit: http://www.bobbyshew.com
-END-
About Yamaha
Yamaha Corporation of America (YCA) is one of the largest subsidiaries of Yamaha Corporation, Japan and offers a full line of award-winning musical instruments, sound reinforcement, commercial installation and home entertainment products to the U.S. market. Products include: Yamaha acoustic, digital and hybrid pianos, portable keyboards, guitars, acoustic and electronic drums, band and orchestral instruments, marching percussion products, synthesizers, professional digital and analog audio equipment, Steinberg recording products and NEXO commercial audio products, as well as AV receivers, amplifiers, MusicCast wireless multiroom audio systems, Blu-ray/CD players, earphones, headphones, home-theater-in-a-box systems, sound bars and its exclusive line of Digital Sound Projectors. YCA markets innovative, finely crafted technology and entertainment products and musical instruments targeted to the hobbyist, education, worship, music, professional audio installation and consumer markets.