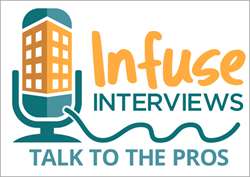 We realized how much these amazing individuals could contribute to listeners. Becca Wilson, CEO Spherexx
DALLAS, TX (PRWEB) November 08, 2016
"Infuse Interviews" launched its first audio interview today at http://www.SPHEREXX.COM/INFUSE with Marketing Director Arthur Kosmider of LeFrak, a renowned real estate company located in New York City.
Mr. Kosmider discusses the importance of lead attribution, discerning business intelligence and what he sees ahead for the next technological breakthrough for the Multi-Housing Industry.
INFUSE INTERVIEWS was conceptualized by Becca Wilson, CEO of Spherexx.com®, along with other Spherexx staff members who have deep roots in multi-family management experience, including two Certified Property Managers® designated by the Institute of Real Estate Management® (IREM): Katheryn Freeberg CPM® and Victoria Vandever CPM®.
Leslie R. Mizerak SPHR, CEO of Lead Coach Mentor, serves as anchor for this inspiring and informative exchange. Guests choose a favorite topic to discuss that will share insight, adventure and strategies: such as their road to success, how they solved a unique management problem, a favorite topic or discovery…and basically anything else they would like to talk about.
"We are always amazed at the quality of professionals we encounter while providing our clients with advertising, technology and software services. We enjoy hearing their stories and insights; and we realized how much these amazing individuals could contribute to listeners."
Stay tuned for continued editions of Infuse Interviews – Talk to the Pros. To receive announcements of upcoming interviews, fill in the form at the foot of the page and we will keep you informed.
ABOUT SPHEREXX.COM® AD AGENCY | SOFTWARE DEVELOPMENT | BUSINESS INTELLIGENCE
Spherexx.com® was established in 2000 when the demand for Internet based marketing and software applications was first appearing on the horizon. Since then Spherexx.com has served the real estate, industrial and consumer services with burgeoning technology:

from basic branding & website design/development to custom application development
business intelligence
mobile applications
customer relationship management software
competitive market survey
advanced integrations
kiosks
search engine optimization and internet advertising
custom e-commerce software purchase ordering and operational audit
tablet software
video and graphic presentation and much more
The company is deeply committed to providing clients with the most advanced customized solutions and engaging user experience for all who connect with their brand.
Spherexx.com® has been recognized over the years for 27 national and international awards for creative design, banding, real estate website marketing and services, videography, technology choice awards and user experience. Most noteworthy is Webby Honoree for best real estate website. Becca Wilson, CEO, won the gold Stevie "Woman of the Year – Business & Financial Services," and was elected as one of the Institute of Real Estate Management's "Women Changing the World of Real Estate Management." Although Spherexx appreciates such public recognition, their real satisfaction is in knowing they have well-served their clients one person, one company, one community, at a time.