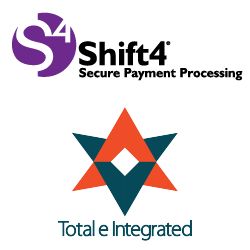 The U.S. migration to EMV has been a slow and painful process, and merchants continue to bear the brunt of it. Shift4 created a solution that enables merchants to adopt EMV with unparalleled flexibility and increased data security
LAS VEGAS (PRWEB) November 08, 2016
Payment gateway provider Shift4 Corporation and Total e Integrated, a club management software provider, today announced the general availability of their joint EMV-certified solution for golf courses and resorts, retail, private clubs, homeowners and property owners associations, and the food and beverage industry.

Layered payment security: EMV helps prevent the fraudulent use of stolen card data in card-present environments. With Shift4's DOLLARS ON THE NET and Total e Integrated, merchants can process EMV payments while adding the layered security of point-to-point encryption (P2PE) and tokenization. This keeps sensitive cardholder data out of their payment processing environment, greatly reducing their breach profile and PCI scope — and protecting consumers' payment data from hackers.
Thirteen supported devices: Shift4 currently supports a variety of EMV-capable terminals by Ingenico Group and Verifone, with options for USB, serial, Ethernet, Bluetooth and Wi-Fi connectivity. This allows club managers to easily implement EMV, whether they operate recreational facilities, a luxury resort or an integrated group of full-service golf courses.
Bank and processor neutrality: Shift4 is currently certified for EMV with eight major processors in the U.S. and Canada, delivering unparalleled coverage of acquirers in North America and the Caribbean — with more on the way— making it easy for merchants to adopt EMV without changing their financial relationships. This also gives merchants the freedom to negotiate the best payment processing rates and make a switch if needed.
Mike Flannagan, president, Total e Integrated, said:
"Shift4 was the clear choice when it came to choosing a payments partner. Not only do they understand our business needs, but they meet them time and time again. By working together, we are able to offer our customers seamless, feature-rich payment processing with the reliability and security that they have come to expect from Shift4 and Total e Integrated."
Dave Oder, CEO, Shift4, said:
"The U.S. migration to EMV has been a slow and painful process, and merchants continue to bear the brunt of it. Shift4 created a solution that enables merchants to adopt EMV with unparalleled flexibility and increased data security. We are pleased to work together with Total e Integrated to provide EMV payment processing to its many customers."
To learn more about EMV adoption with Shift4, visit http://www.shift4.com/EMV or call 800.265.5795.
For more information about Total e Integrated, visit http://www.totaleintegrated.com or call 888.660.6131.
About Shift4 Corporation
Shift4 stands alone as the last major player in the payments space to remain independent, self-funded, and merchant focused. Our DOLLARS ON THE NET® payment gateway comes with all the bells and whistles: pre- and post-settlement auditing, fraud controls, support for new technologies like EMV and mobile, secure connections to nearly every major bank and processor in North America, and 350+ certified integrations to leading POS, PMS, and e-commerce platforms. Shift4 invests heavily in payment security — we invented tokenization and own nine payment-security patents. We empower our 33,000+ merchant customers with the flexibility to customize our secure payment processing solutions to fit their business. Learn more at http://www.shift4.com.
About Total e Integrated
Total e Integrated is a leading provider of end-to-end business management solutions for club, community and resort businesses. For over 15 years Total e Integrated has helped organizations to integrate departments, automate marketing, streamline operations and boost revenues with our innovative solutions and expert consulting services team. To learn more, visit http://www.totaleintegrated.com or email info(at)totaleintegrated.com.