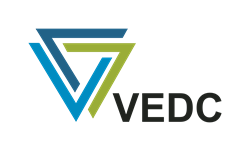 "Navarro's experience in lending and technology will provide the opportunity to develop new products and greatly improve the borrower experience." - VEDC Chief Operating Officer, Robert Lopez
Los Angeles, CA (PRWEB) November 08, 2016
VEDC today announced the appointment of finance executive Rudy Navarro as chief credit officer (CCO).
In the newly created position of chief credit officer, Navarro's primary responsibilities will be to develop new lending products, as well as to create the infrastructure needed to originate and service VEDC's loan portfolio. He will also oversee the management of the organization's credit administration functions, including underwriting, documentation, closing, servicing, collections and portfolio risk management.
Navarro brings his experience in applying technology to solve problems and drive portfolio growth while expanding access to capital in underserved markets. He comes to VEDC from national online small business loan provider Dealstruck, where he served as vice president of operations. Prior to that, he held several underwriting and risk management roles of increasing responsibility with banks and finance companies such as Westamerica Bank, CDC Small Business Finance, Heller Financial, and GE Capital. As CCO, he will leverage technology to streamline VEDC lending operations in addition to automating business processes across the organization.
"Rudy joins VEDC at a time when we are poised to assist more entrepreneurs than ever before in the history of the organization," said Robert Lopez, chief operating officer for VEDC. "His experience in lending and technology will provide the opportunity to develop new products and greatly improve the borrower experience."
VEDC has a $35 million small business loan portfolio and serves small businesses in California, Chicago, Miami, Las Vegas, Utah, and the New York Tri-State area (New York, New Jersey, Connecticut). VEDC has lent $400 million in direct and guaranteed loans to more than 108,000 small businesses and created more than 200,600 jobs over the last 40 years.
"VEDC is a leading small business lender among Community Financial Development Institutions (CDFIs). The organization is primed to take their lending operations to the next level," Navarro said. "I am pleased to be here to contribute to their growth in this key role."
About VEDC
VEDC is a leading non-profit small business lender that has a 40 year history of changing the way small business lending is done by making it more available and impactful. VEDC's mission, as a certified Community Development Financial Institution (CDFI), is to help create jobs and promote small business development in under-served communities. The organization provides loans and micro-financing options to small businesses, particularly those owned by women and minorities, that don't qualify for traditional financing. VEDC's expanding portfolio is composed of community-based loan funds in California, Illinois, Nevada, Utah, New Jersey, Connecticut, Florida and New York. Learn more about VEDC services by visiting http://www.vedc.org.