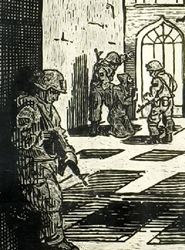 SAN FRANCISCO, CA (PRWEB) November 09, 2016
The University of San Francisco's (USF) Thacher Gallery will partner with USF's Masters in Museum Studies Program to present, The Depravities of War, an exhibition comprised of 15 monumental woodblock prints, executed in collaboration with San Francisco master printer Paul Mullowney, depicting scenes from the Iraq War (2003-2011). Visually striking meditations on the nature of armed conflict, the works invite the viewer to consider the consequences of war on society. The Depravities of War opens this Thurs., Nov. 10 and runs through Feb. 19, 2017.
Sandow Birk is a socially-engaged, Los Angeles-based artist known for his thoughtful critique on politics, war, and urban living -- and the role that art plays in each. The Depravities graphically comments on the realities of the recent Iraq War on large scale, paradoxically challenging the viewer to consider the moral and human implications of war up close. Prior to coming to the University of San Francisco, the series has been exhibited in a number of museums and galleries in the U.S. and abroad.
Alongside the Depravities series, Thacher Gallery will display Birk's historical source materials, including reproductions of 17th-century French printmaker Jacques Callot's large Miseries of War series that comments on the devastating Thirty Years' War (1618-1648). The exhibition will also include copies of some of Birk's photographic source materials from the Iraq War.
Birk regularly draws on art history for inspiration. A graduate of the Otis/Parsons Art Institute, Birk is the recipient of numerous grants, residencies, and fellowships, including a 1999 Getty Fellowship for painting and a 2007 residency at the Smithsonian Institute in Washington, DC. He is represented by galleries in New York, Los Angeles, and locally at Catharine Clark Gallery in San Francisco.
Master's degree students in the USF Museum Studies Program had the opportunity to collaborate and curate this exhibition. As part of the semester-long Curatorial Studies Practicum, and under the guidance of Professor Catherine Lusheck, the students were significant in the development and execution of The Depravities of War. Student curators developed the exhibition theme, researched and wrote interpretative object labels, conducted public relations efforts, and designed exhibition layout in Thacher Gallery.
Opening event:
Thursday, Nov. 10, 5-6 p.m.: To kick off Thacher Gallery's newest exhibition, The Depravities of War (Nov. 10, 2016-Feb. 19, 2017), artist Sandow Birk and master printer Paul Mullowney will be the featured speakers at the opening panel conversation to discuss their 15 monumental woodblock prints on display. This one-hour opening discussion event will be followed by a reception where attendees can see The Depravities of War exhibition on its opening day. This event takes place in Fromm Hall, located on the campus of the University of San Francisco (USF) at 660 Parker Ave, San Francisco, CA 94117, behind St. Ignatius Church along Parker Avenue (at McAllister).
Located in the Gleeson Library-Geschke Center, the Thacher Gallery at USF is free and open to the public from noon to 6 p.m. daily. The gallery will be closed Dec. 17-18 and Dec. 23-Jan. 2. 2130 Fulton St. (at Cole) 415.422.5178 http://www.usfca.edu/thacher-gallery