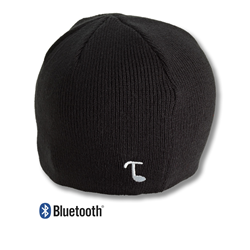 Denver, CO (PRWEB) November 10, 2016
Tooks International, a Denver, Colorado based company specializing in a unique line of audio headwear featuring integrated removable headphones, recently announced a new Bluetooth wireless option available for all Beanie and Headband styles. The Bluetooth headphones are hidden within the headwear but have easily accessible controls for listening to music and handing phone calls, up to a range of 10 meters (about 30'). A standard USB charging port at the back allows you to charge the headphones without having to remove them. The all-season Bluetooth beanie styles are available in a variety of styles and colors, and the Bluetooth headband versions- available in Dryfit or Fleece- offer versatility from sports to sleep.
Tooks are the perfect audio accessory for your mobile phone, MP3 player/iPod, laptop, or tablet and can be used for just about any activity where you listen to music. They also make great gifts for birthdays or Christmas. The innovative headwear features compact-size removable headphones that are engineered for superior sound quality in a slim package design. The fact that they're removable also allows the headwear to be washed. The headphones are inserted into the inner layers of fabric hidden from view and can be adjusted to fit directly over the ears, providing a full and dynamic range of sound. Unlike earbuds which can be uncomfortable and plug your ears completely, Tooks headphones allow some ambient sound to be heard, for instance when running, skiing, or biking. The entire line is also very reasonably priced.
Visit Tooks on the web at TooksHats.com