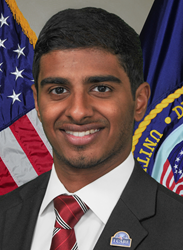 Baltimore, Md (PRWEB) November 08, 2016
The VA Maryland Health Care System has announced that Vamsee Potluri, a resident of Baltimore, has been named the new Ambulatory Care Operations Director--Group Practice Manger. In this position, Potluri will oversee the Primary Care, Mental Health, Specialty Care, Ambulatory Surgery, and all other ambulatory clinics and work to integrate them into an efficient outpatient operation. Potluri will work with the health care system's leadership to develop strategic plans as it relates to access to care and measuring and assessing clinical business activities.
"We're excited to have Mr. Potluri on our team. He knows the Ambulatory & Emergency Care Clinical Center extremely well and he brings a fresh perspective to the goal of integrating our ambulatory services into an efficient management model that best serves our veterans," said Dr. Sandra Marshall, chief of staff at the VA Maryland Health Care System.
Previously, Potluri served as the business manager in the health care system's Ambulatory & Emergency Care Clinical Center, where he designed, created and implemented the first-of-its-kind, real-time Clinic Operations Dashboards. In his capacity as business manager, he assessed performance and productivity of staff to assist in personnel reassignments and established new and more efficient processes. His efforts resulted in enhanced access to care, improved patient satisfaction scores, and increased staff productivity. Prior to his role as business manager, Potluri served as a health systems specialist to the chief of staff.
"I'm looking forward to working with the executive leadership team, clinical center directors, administrators, managers and front line staff across the VA Maryland Health Care System to improve access, quality and efficiency of the care we provide to our veterans," Potluri said. "My personal goal is to leverage data, technology and strong process improvement techniques to make it easy for our clinicians and staff to provide patients with the best care at their preferred date, time, and location to achieve patient and staff satisfaction. I'm optimistic that our current momentum and commitment to the VA's core values of integrity, commitment, advocacy, respect and excellence will help us accomplish this goal."
A Houston native, Potluri earned a bachelor's of science degree in Biochemistry and Biophysics in 2011 and two master's degrees, one in Health Care Administration and the other in Business Administration in 2013, all from the University of Houston. He then completed a Graduate Healthcare Administration Training Program Fellowship with the VA Capitol Health Care Network in 2015. Potluri, a member of the American College of Health Care Executives, is also Lean Black Belt trained.
# # #
The VA Maryland Health Care System (VAMHCS) provides a broad spectrum of medical, surgical, rehabilitative, mental health and outpatient care to veterans at two medical centers, one rehabilitation & extended care center and six outpatient clinics located throughout the state. More than 52,000 veterans from various generations receive care from VAMHCS annually. Nationally recognized for its state-of-the-art technology and quality patient care, VAMHCS is proud of its reputation as a leader in veterans' health care, research and education. It costs nothing for Veterans to enroll for health care with the VA Maryland Health Care System and it could be one of the more important things a Veteran can do. For information about VA health care eligibility and enrollment or how to apply for a VA medical care hardship to avoid future copayments for VA health care, interested Veterans are urged to call the Enrollment Center for the VA Maryland Health Care System, Monday through Friday, from 8 a.m. to 4:30 p.m. at 1-800-463-6295, ext. 7324 or visit http://www.maryland.va.gov.