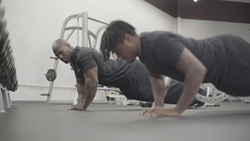 Dallas, Texas (PRWEB) November 09, 2016
Columbus, Ohio high school student and running back John Branham, Jr. was recently picked as the national winner of the Unequal® Battle Ready contest, which challenged high school football players across the country to create and submit a video showing how they get in the zone before games. Branham, personally selected by James Harrison, flew to Pittsburgh for a once-in-a-lifetime, private workout with the Pittsburgh Steelers linebacker and two-time Super Bowl Champion, who also has been using Unequal's supplemental head padding in his helmets for six years.
Branham's winning video featured a daunting gym routine, which included several one-armed pull-ups, sled pulls and an impressive standing vertical jump of 64 inches, but his workout with Harrison forced him to challenge his athletic ability even further. On Sunday, October 30, at the Legends of Pittsburgh Fitness and Performance Center, Harrison led Branham through an intense workout and shared tips that have helped him win world championships and awards, including NFL Defensive Player of the Year and five Pro Bowl appearances. As someone who has sustained multiple concussions, Harrison impressed upon Branham the risk of concussions in football and the value of using the Unequal Gyro® in his helmet to reduce that risk.
"Any chance I get I'm going to urge a young player coming up to use Unequal. You don't know how good it is until after that first big hit. It just feels different…better. Unequal has made a huge difference for me and I won't practice or play without it, period," Harrison said.
Unequal's mission to protect both soldiers on the battlefield and players like Harrison and Branham on the sports field is supported by the development of groundbreaking products including the Gyro, the company's unique helmet liner that reduces concussion risk, and the Halo 3, a scientifically engineered soccer headband, fortified with Kevlar® and Airilon®, that helps reduce risk on the pitch.
Products featuring Unequal's patented technology, including the Gyro and Halo, are available for purchase at http://www.Unequal.com.
About Unequal
Unequal's mission is to protect soldiers on the battlefield and players on the sports field. Its patented fusion of a military-grade composite, made of various combinations of TriDur™ aramid fabric, Accelleron®, Airilon® and ImpacShield®, is engineered for customized, concealed protection. Professionals in the NFL, MLB, NHL and X Games, as well as Olympic athletes, collegiate and youth athletes in football, baseball, soccer, hockey, lacrosse, action sports, contact sports and other activities, wear Unequal's protective head and body gear. Unequal's technology is protected by 100 worldwide patents. Its products have been tested by US Government agencies, accredited laboratories, OEM facilities and top universities. An attendee at the recent White House Concussion Summit, Unequal is recognized as one of Forbes 100 Most Promising Companies, ESPN's Top 15 Best Sports Innovations, the #1 Tech Innovation by Esquire.com and winner of the DuPont™ Kevlar® Innovation Award. For more information, visit http://www.unequal.com or connect with us on Facebook, Twitter and Instagram using the hashtag #UnequalProtects.
Unequal HART® Protectors have not been evaluated by the Food and Drug Administration and are not intended to treat, cure, diagnose or prevent any disease.
Kevlar® is a registered trademark of E.I. du Pont de Nemours and Company or its affiliates ("DuPont"). Use of the Kevlar® mark herein is for source identification only and does not indicate or imply any license, affiliation, endorsement, or sponsorship of Unequal's products by DuPont.