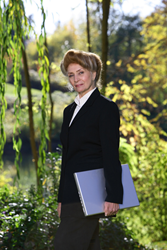 Grants Pass, OR (PRWEB) November 09, 2016
Water research leader Sharon Kleyne, in a think tank gathering last week at the offices of Bio-Logic Aqua® Research Water Life Science® in Grants Pass, Oregon announced her plan to tackle water education apathy by enlisting the aid of educators themselves.
Host of The Sharon Kleyne Hour Power of Water, Global Climate Change and Your Health, the nationally syndicated radio show on Voice of America, Kleyne explained that earth and its population face an ever-worsening water crisis that threatens all life. "Fresh water on the planet is diminishing," Kleyne said, "as the result of excessive water evaporation. This evaporation process is also hurting human health as a result of dehydration."
In order to combat this double threat, Sharon Kleyne is attacking the apathy about the state of water that plagues American children (and everyone else) by calling on grade school, middle school and high school teachers throughout the land to pledge at least 3 semester hours each term to in-depth discussions of the history, present and future of water. Kleyne also pledged Bio-Logic Aqua® Research Water Life Science® support in the form of printed reports and scientific findings covering evaporation of earth's and the body's water vapor and the need to regularly supplement them with tissue culture grade water. Kleyne also said that staff and Bio-Logic Aqua® Research Water Life Science® colleagues among researchers and scientists would make personal appearances at schools to talk about water technology and water research with faculty and students.
Sharon Kleyne urges everyone to become better educated about the true state of this emergency. For those who might persist in maintaining an apathetic attitude, Kleyne cited one chilling statistic. "If one needs more convincing to become better educated about water," said Kleyne, "I ask one to consider this: in the past twenty years, diarrhea caused by unsanitary water has killed more children than all the people lost to armed conflict since World War II. Take a moment to digest that fact."
Sharon Kleyne believes that education efforts must also share the dire effects of body water evaporation and earth water vapor evaporation that cause dry eye disease that can lead to blindness, melanoma, allergies, skin rashes and a host of other diseases and afflictions. Kleyne believes that two things must happen to begin to turn our global water crisis around. "First," she says, "we must develop new water technology to reduce the amount of fresh groundwater that runs out to sea. This immense quantity of water would be put to better use as drinking water and irrigation water. "Second," Kleyne continued, "we must create international, national and regional water plans that suggest and monitor pricing and offer beneficial water use and availability for everyone."
Sharon Kleyne, who for more than two decades has been globally respected and admired by scientists, doctors and researchers for her work in water vapor evaporation and supplementation of the body's water vapor, believes that the children of the world can and will save us from a terrifying water disaster of epic proportions. "We are water," Kleyne said. "We're a walking, breathing sponge. We cannot live without water; without the water vapor in the air, we cannot breathe, and without drinking water, humanity cannot survive. Let's give our children, who are ever curious when someone takes the time to mentor them, a chance to lead us to new water policies and new water sanity."