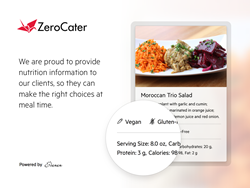 Our goal is to become the nutrition engine behind every meal ordered, bought, delivered or eaten.
New York, NY (PRWEB) November 10, 2016
Edamam, a company providing structured nutrition data solutions has partnered with ZeroCater, an innovative corporate caterer, to add nutrition data and diet labeling to meals delivered to offices.
ZeroCater works with a range of restaurants to organize delivery of high quality, local, gourmet food to businesses in major metropolitan markets. Edamam's technology was selected to append nutrition data for these restaurant meals. The service is starting in San Francisco and New York, but will soon expand to other markets.
Edamam's nutrition data and diet labeling will be added to each delivered meals and will help employees of the catering companies' clients make more educated choices and order the food that best fits their diet or health needs.
Restaurants working with ZeroCater, would be able to obtain nutrition for all their menu items on the ZeroCater site and use it as needed beyond the delivery service.
"We are proud to partner with ZeroCater, a leading provider of high quality, healthy eating options for corporate dining that is on the forefront of improving the food choices people make and this aligns perfectly with our mission to help people eat better through the power of technology" explained Victor Penev, Edamam's CEO and Founder.
Edamam's ability to accurately analyze the nutrition of cooked meals in real-time is proving quite attractive to companies in the booming catering and food delivery space, as well as for individual restaurants. Its cloud-based, affordable solution Nutrition Analysis API is quickly gaining traction with close to 4,000 subscribers. The company also provides custom implementation of its APIs for larger clients, such as ZeroCater, General Mills or Epicurious.
"Our goal is one day to become the nutrition engine for every business that touches a consumer at the point of making a decision about food," added Victor Penev.
Edamam's partners and clients include, also The New York Times, Nestle and Samsung.
The company's B2B API offering, custom implemented by all companies mentioned above, can be found at https://developer.edamam.com.
About Edamam
Edamam organizes the world's food knowledge and powers nutrition solutions for businesses in the food, health and wellness sectors. Using a proprietary semantic technology platform, it delivers real-time nutrition analysis and diet recommendations via API or custom implementations. Edamam's technology helps customers answer for their clients the perennial question: "What should I eat?"
For more information, please visit http://www.edamam.com.
Media contact:
Victor Penev
victor(at)edamam(dot)com
+1.646.378.8317