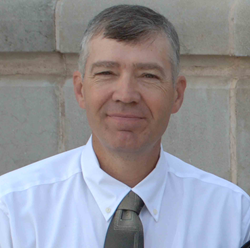 With Billy's help, BlueInGreen will be able to better serve our end-users every step of the way. - National Sales Manager Thomas Sichz
FAYETTEVILLE, Ark. (PRWEB) November 10, 2016
BlueInGreen has named Billy Ammons as its Technical Services Manager. With over 35 years of experience in the water treatment industry, Ammons will offer valuable technical insight to optimize product development and expansion, as well as oversee key customer relationships on behalf of the company.
Ammons possesses extensive experience in a wide variety of treatment processes, solids drying operations and disinfection methods. He has also assisted in the design of numerous plant upgrades and the construction of new treatment facilities. Ammons is a member of the Water Environment Federation (WEF), Arkansas Water Environment Association, Arkansas Water and Wastewater Managers Association and Arkansas Select Society of Sanitary Sludge Shovelers.
"Billy has a deep understanding of every aspect of the entire treatment process," said National Sales Manager Thomas Sichz. "He knows firsthand what plant operators and project managers are looking for from their equipment manufacturer. With Billy's help, BlueInGreen will be able to better serve our end-users every step of the way."
Ammons began his career as a Night Shift Operator at the City of Fayetteville's Water Pollution Control Facility in 1981. He was later hired by CH2M - an Engineering News-Record (ENR) Top 500 Design Firm - as a Lead Operator for its operations and maintenance division, Operations Management International, Inc. (OMI), where he continued to rise within the company. Before joining BlueInGreen, Ammons served as a Regional Business Manager at OMI for 11 years, where he successfully supervised simultaneous water and wastewater treatment projects across the country.
"I'm very excited to be part of BlueInGreen," Ammons said. "Throughout my career, I've seen a lot of companies claiming to be the next big thing in water treatment. Unlike many of those companies, BlueInGreen has real-life examples of actually accomplishing significant tasks and providing impactful service to the water and wastewater community. I look forward to the opportunity to help BlueInGreen continue that contribution and increase our overall service offerings."
Founded in 2004, BlueInGreen has recently seen an unprecedented demand for its aeration, pH adjustment, oxidation and odor control technologies. The company received the WEF Innovative Technology Award in 2010 and was named the Global Cleantech Cluster Association's (GCCA) Grand Prize Winner in 2015. Last month, BlueInGreen named Eric Stasen as its Industrial Sales Manager to assist with market channel development and further expand its presence in the industrial marketplace.
"It's a real honor to have someone with such a distinguished background as Billy join our team at BlueInGreen," said CEO Chris Milligan. "Our company is growing at a rapid pace, but with new hires like Billy, we're not just getting bigger. We're getting better."
BlueInGreen, LLC is a water treatment company that provides the world's most efficient method of delivering dissolved oxygen, carbon dioxide and ozone into water. The company offers cost-effective solutions for aeration, pH adjustment, oxidation and odor control. For more information, visit blueingreen.com.